Pro Collagen Face Mask 50 ml
product code: DLKOPPFM01CO00
Pro Collagen Face Mask is a regenerating face mask for night use. It has a moisturizing, firming effect and reduces the visibility of wrinkles. The rich formula is based on valuable active ingredients that have strongly moisturizing, lifting and nourishing properties. Specially selected ingredients of natural origin ensure radiant skin. The fish collagen used, together with a complex of five hyaluronic acids and other active ingredients, moisturize and improve skin elasticity. The specially developed recipe of the mask firms the skin, smoothes it, soothes it, and makes the skin regenerated and moisturized after waking up.
Can we maintain the beautiful, young and radiant appearance of our skin despite the passing years and naturally progressing aging processes?
With the Pro Collagen line it is POSSIBLE!
Do you know what makes Pro Collagen Face Mask stand out?
---

94.4% natural product. Pro Collagen Face Mask is a combination of active ingredients in a highly natural formula.

The complex of marine collagen with organic silicon smoothes out fine wrinkles and ensures proper elasticity and firmness of the facial skin.

Pro Collagen Face Mask is a rich formula based on 13 active ingredients that have anti-wrinkle, moisturizing, nourishing and soothing properties for our skin.

Thanks to the synergism of the action of the collagen used with other active ingredients, we achieve the effect of anti-wrinkle care.

The mask has a moisturizing effect thanks to the use of moisturizing ingredients, i.e. betaine, trehalose, allantoin, urea, panthenol, emollients and a complex of 5 hyaluronic acids that differ in structure and particle size.

Specially selected and selected active substances from marine organisms in line with the latest trends - marine organisms are the key to our youth.
Did you know that Pro Collagen Face Mask is...
---
Regenerating night face mask with moisturizing, firming and anti-wrinkle effects.
A mask that fits the "beauty sleep" trend . This means that the right selection of cosmetics for evening care can be helpful in achieving beautiful and radiant skin.
A cosmetic with a high naturalness index of as much as 94.4%.
A mask that we use twice a week or more often - depending on the skin's needs.
See how Pro Collagen Face Mask supports your skin:
---

Moisturizes and visibly smoothes the skin

Regenerates, soothes, brightens and has a lifting effect

After waking up, the skin is regenerated and moisturized
Reduces signs of fatigue and reduces the visibility of wrinkles

It has anti-aging properties

Provides a radiant complexion appearance

It improves skin elasticity, color and reduces imperfections
Get to know the active ingredients used in Pro Collagen Face Mask:
---
Marine collagen complex with organic silicon:
· acts directly on the skin surface;
· smoothes fine wrinkles;
· has moisturizing properties;
· improves skin elasticity and firmness.
Polylift®:
· high molecular weight biopolymer from sweet almond proteins;
· reduces the visibility of wrinkles and smoothes them.
Sirtalice TM :
· a substance obtained from marine microorganisms in the Indian Ocean;
· has lifting effects and improves facial oval.
Betaine:
· humectant with a moisturizing effect;
· protects and strengthens the epidermal barrier.
Trehalose:
· has the ability to retain moisture, maintaining adequate hydration in the stratum corneum of the epidermis;
· helps maintain radiant and glowing skin.
Allantoin:
· soothes and eliminates irritations;
· has regenerating properties;
· cosmetics with allantoin help in the care of particularly sensitive skin.
Urea:
· provides intense hydration of the epidermis (one of the most important ingredients of NMF, a skin moisturizing factor);
· has strong hygroscopic, softening and smoothing properties;
· soothes irritations.
Beauty Sleep trend in line with your skin's natural circadian rhythm
---
Do proper evening care and good sleep affect the appearance of our skin?
Can we use care cosmetics used during the day in the evening and achieve the expected effect of beautiful and rested skin after waking up?
Certainly, each of us has asked ourselves these questions more than once. In recent years, a trend has emerged in facial skin care called "beauty sleep" , according to which the appropriate selection of evening care cosmetics, in line with the natural rhythm of our skin, is necessary to obtain beautiful and radiant skin. The processes taking place in our skin at night ensure its regeneration, hydration and reduce the visibility of wrinkles. Therefore, proper care of our skin before going to bed is a way to ensure its young and radiant appearance. Cosmetics for evening care should support the skin in its natural processes - rebuild the protective barrier of the epidermis and intensively moisturize and nourish.
The evening rhythm of your skin - step-by-step perfect care
---

REMEMBER!
During the night, the skin is mainly focused on REGENERATION.

Evening care should start with make-up removal , i.e. thorough cleansing of the facial skin using micellar fluid, face wash gel and tonic. After this treatment, the skin is prepared for the next stages of care.

The next step is to apply 3-5 drops of Pro Collagen Face Serum to the face, neck and cleavage. The face serum will ensure proper elasticity, firmness and hydration of the skin.

Then apply Pro Collagen Night Cream, rich in active ingredients.

The rich formula will intensively moisturize, revitalize and improve the condition and tension of the skin. It will reduce the visibility of wrinkles while nourishing the skin thanks to the content of active substances.

Pro Collagen Face Mask should be applied twice a week or more often (depending on the skin's needs) - after using the serum and instead of the night cream.

This is a night face mask with regenerating, moisturizing, firming and wrinkle-reducing properties. The rich formula is based on 13 active ingredients that have moisturizing, lifting and nourishing properties.
Ingredients: Aqua, Propanediol, C13-15 Alkane, Caprylic/Capric Triglyceride, Glyceryl Stearate, Cetearyl Alcohol, Betaine, Urea, Cannabis Sativa Seed Oil, Glycerin, Prunus Amygdalus Dulcis Oil, Mangifera Indica Seed Butter, Butyrospermum Parkii Butter, Trehalose, Cetearyl Glucoside, Allantoin, Xanthan Gum, Bacillus Ferment, Panthenol, Hydrolyzed Glycosaminoglycans, Sodium Hyaluronate, Hydrolyzed Hyaluronic Acid, Hyaluronic Acid, Sodium Hyaluronate Crosspolymer, Prunus Amygdalus Dulcis Seed Extract, Silanetriol, Hydrolyzed Collagen, Hectorite, Benzyl Glycol, Ethylhexylglycerin, Raspberry Ketone, Sodium Benzoate, Glyceryl Caprylate, 1,2-Hexanediol, Caprylyl Glycol, Tocopheryl Acetate, Citric Acid, Parfum, Hydroxycitronellal, Linalool, Citronellol, Hexyl Cinnamal, Limonene, Alpha-Isomethyl Ionone
The mask is the last step in evening facial skin care. It should be applied after cleansing the skin and applying tonic and serum. Apply to the face, neck and décolleté, and pat in the excess with your fingertips. Leave the mask overnight. Use twice a week or more often - depending on the skin's needs.
Store at a temperature of 15 to 25°C, in a dry place, away from light sources. Take care of the environment with DUOLIFE and segregate waste!
After using the product, take care of the environment. Dispose of the box, leaflet, bottle, dosing pump and cap in appropriately marked waste containers. The table below will help you.
Environment table: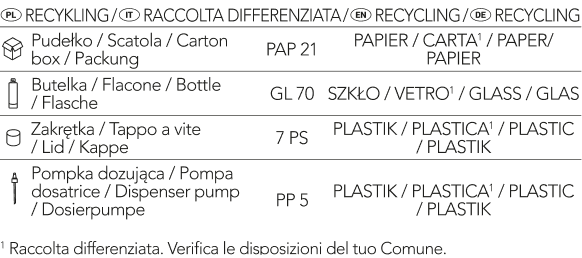 Do not use if you are allergic to any of the ingredients. Avoid direct contact with eyes.