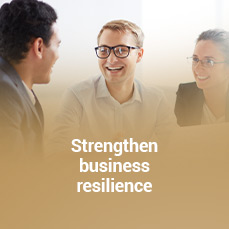 Strengthen business resilience - take the challenge and achieve a great success!
4.10.2020
Dear Clubmembers,
the current epidemiological situation is likely to strongly rebuild the world around us. The most important changes will take place within awareness and health care, but also on the labor market and in the business industry. All in all, this can lead to a change in the economy - a very popular stationary business will give way to online business. Each of us should be prepared for this and ask the question today: how will I adapt to the upcoming changes?
Fortunately, the answer is very simple and it sounds: DuoLife! It is our company that combines the most important with the most modern - taking care of health with building an effective, international business without leaving your home.

Big changes are already on the horizon, that's why all active DuoLife Members and people who for some reason have suspended their activities or are just joining us, we want to invite you to participate in a unique action - Strengthen Business Resilience
What exactly is it about? We offer you a challenge. In two months (from March 31 to May 31), try to double your sales, meeting the needs of people around the world. Help them strengthen their immunity with DuoLife Vita C, BorelissPro or ProSelect products, or simply to take good care of their health! This is a legitimate goal that will bring multifaceted benefits.

Completing the challenge is possible because DuoLife is not only a company with a mission and values directed towards people. It is also a company that creates huge opportunities and allows you to build a profitable business leading to financial independence, in which everyone - no matter what they did before - can be successful! DuoLife's most important advantages are:
proven and effective products that allow you to take care of your health and build immunity;
network work model with an international reach;
the opportunity to run an online business without leaving home;
the ability to generate income for broad professional groups whose representatives want to improve the quality of their lives;
access to the best marketing and business tools, webinars and information mailings;
attractive offers for people who join the DuoLife Club
promotional programs that reward club members for loyalty, product packages with attractive free items, programs guaranteeing shipping for PLN 1 (including the new 100+ Program)
The changes that await us will probably affect many industries...
restaurateurs
beauticians
barbers
traders
shopkeepers
...these are just some of the occupational groups exposed to immediate and greatest losses, which particularly raise the topic that their economic and living situation is extremely difficult. Let us invite them to a business that is not unknown to them because of their knowledge of the following industries: beauty, health or food.
So remember - it's never too late to succeed in DuoLife!
Let your every day be a special day…
Back to the list of news