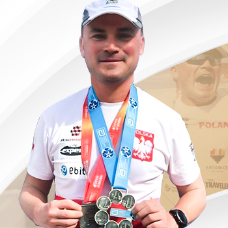 Wojciech Machnik is the new DuoLife brand ambassador
30.07.2020
Dear Club Members,
the community of DuoLife brand ambassadors has grown by another inspirational person. Wojciech Machnik, a travel enthusiast and marathon runner, who is constantly looking for new challenges and inspiration, and, above all, the originator of the extremely interesting 249challenge project, will be playing in our team!
Wojciech Machnik
is the new DuoLife brand ambassador
The first marathon runner to complete 66 marathons in 66 countries in one year.
World record holder in the category of "The most completed marathons in different countries during a year".
His goal is to complete 249 marathons in 249 countries around the world.
Wojciech Machnik himself claims to be a man of the road. He spent half his life traveling, visiting 120 countries on 6 continents. Since 2013, he has been present in running arenas. He has completed many marathons and runs at other distances, and the combination of his passion for traveling and running became his way of life a few years ago. Today Wojtek, who had previously worked for a dozen years in a corporation, runs the travel agency pokochaj-podroze.pl and the travel2run.pl project dedicated to marathon trips.
Our new Ambassador was the 26th Pole to complete the prestigious World Marathon Majors series. He holds the world record for "The most completed marathons in different countries during a year", and will soon add the title in the "Fastest completed 100 marathons in 100 countries" category. He also carries out the extremely ambitious 249challenge project with incredible verve. What is it all about? Wojtek assumed that he would run a marathon in every country in the world, and where that is not possible, he would take up a different challenge. Furthermore, he intends to use his complex journey for charity!
We are extremely happy that a great athlete such as Wojtek, who has repeatedly overcome his own barriers and achieved many marathon-related successes (and more), decided to cooperate with DuoLife and trusted our products. We are glad that we will be able to support him in his international endavours, which will surely stir things a lot. When choosing DuoLife supplements, our Ambassador focuses on what is best for the body, and we are sure that with our support, he will achieve his sports goals and dreams anywhere in the world. We are proud to welcome Wojtek in our DuoLife Team. Together we will definitely reach for more!
Let your every day be a special day...
Back to the list of news