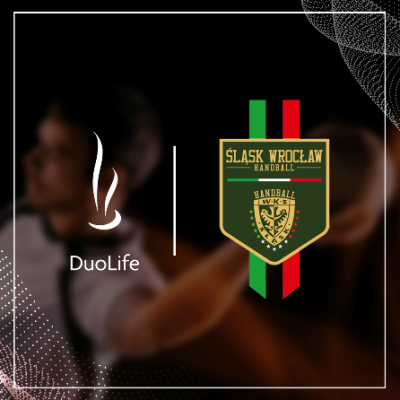 WKS Śląsk Wrocław is DuoLife's new partner!
12.09.2022
We are very proud to announce that WKS Śląsk Wrocław – one of the most successful handball clubs in Poland – has become DuoLife's new partner!

Over the course of its rich history, WKS Śląsk Wrocław has won numerous titles and cups:
6 vice championships of Poland.
By virtue of an agreement between WKS Śląsk Wrocław and the Forza Wrocław association, the WKS Śląsk Forza Wrocław team is playing in the First League Men's Group B competition. The common goal of the two clubs is to unite the handball community in Wroclaw, and in the long run: to restore the glory and to refer to the great successes of WKS Śląsk.
As DuoLife, we always want to associate and cooperate with the very best. We are sure that the cooperation with one of the most famous handball clubs in Poland will last and bring many happy moments for all the people we meet!
Let your every day be a special day…
Back to the list of news