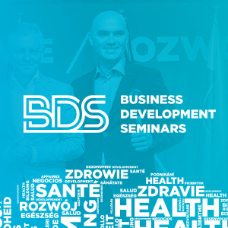 Why is it worth attending a Business Session during the BDS?
22.01.2020
Dear Club Members,
One of the most important elements of each event from the Business Development Seminars series is the Business Session. It will be no different at the upcoming event, which will take place in Częstochowa on February 8. Be there with us to learn everything necessary to run an effective business!
If you haven't participated in the Business Session so far, ... you don't know how much you have lost! It is during this unique session that you can learn the real stories of people who are real successes and change their lives for the better in DuoLife. What's more, it's also the best opportunity to explore the secrets of softmarketing® and build a business culture!

In addition, the Business Session teaches you how to:
build a faith bridge for business
understand what a business at DuoLife is
build trust in the softmarketing® model
Take note!
All Business Sessions are conducted by DuoLife Club Top Leaders! During the next BDS, Paweł Lenar, the International Director of our Club will be your host!
If you haven't signed up for BDS in Częstochowa so far, do it as soon as possible and be sure to take part in a business session. See for yourself that we are not too small for any peaks!
Let every day be a special day…
Back to the list of news