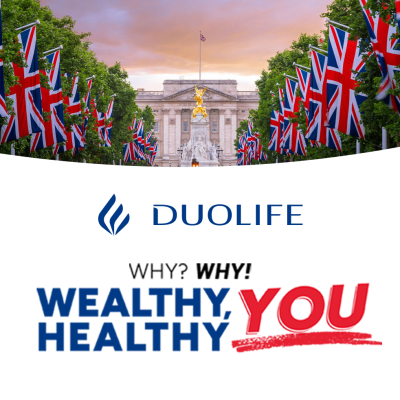 Wealthy Healthy You – meet our speakers!
17.05.2023
Dear club Members!
We are delighted to announce the speakers for Wealthy Healthy You! We are confident that their knowledge and experience will bring you closer to achieving your dreams of a healthy and prosperous life. On 10/06/2023 at The Double Tree Hilton Milton Keynes the speakers are:
Why! Healthy
Alicja Son – Healthy Life Coach, TEDx and International Speaker
Dariusz Mietlicki – International Director of DUOLIFE Club
Why! Wealthy
Ivana Kičikoleva – National Director of DUOLIFE Club
Why! Setting goals
Paweł Lenar – General Director of DUOLIFE Club
Why! Social media
Iulia Plesa – Senior Manager of DUOLIFE Club
Why! DUOLIFE
Bartosz Królikowski – Co-founder and CEO of DUOLIFE S.A.
Why! You
Swann Xerri – Business Coach, Motivational Speaker, Leadership Expert
Why! Next steps
Dietmar Dahmen – International Director of DUOLIFE Club
Why! DUOLIFE in UK
Mirosław Adamczyk – Managing Director of DUOLIFE S.A.

We have great news too for those who want to share their story and join our event as one of the speakers! The person who invites the highest number of people to the event and therefore buys the most packages of 3 tickets during the time they are on sale will be invited on stage. Do not hesitate! A place among the speakers is waiting for you!
Tickets for the WHY? WHY! Wealthy Healthy You! are available to buy @ myduolife.com → Shop → Event tickets
Note: Purchase of ticket possible after logging in to UK zone
#CosmosOfPossibilities
DUOLIFE is a veritable #CosmosOfPossibilities. Be active, use the tools available, grow and enter the galaxy of the brightest shining stars. Unlimited possibilities are at your fingertips!
#CosmosOfPossibilities at DUOLIFE -
development, tools, prospects
Make every day unique...
Back to the list of news