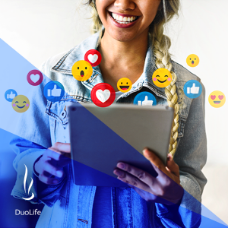 Want to know everything about DuoLife's life? Join us on Facebook!
17.02.2020
Dear Club Members,
if you want to be up to date with all the latest news at DuoLife, and also not miss out on any of the marketing materials that are extremely helpful in building an effective business, be sure to... join us on Facebook! Every day we publish a lot of useful and interesting information on our fanpages, product news and promotional messages that you simply cannot miss!

Which profiles should you leave a"Like"?
Hi5! - the Hi5 family continues to grow! On this product line's fanpage, you will find interesting facts about it and a lot of information on the use of this brand's products. It also includes a good deal of marketing materials - videos, photos showing our bars and muesli, and news from our Ambassadors!
DuoLife Polska - here you will find a unique dose of product knowledge, combined with the latest news straight from our company! You will learn everything about new events, products or institutions/persons we have established cooperation with. There is also no shortage of marketing materials: animations, videos and photos, interesting facts about a healthy lifestyle and our company descriptions in a nutshell. Moreover, everything is adorned with light content that makes PEOPLE THE CENTER OF ATTENTION.
Piurif - ecological education is constantly gaining momentum, so make sure to join the Piurif community! With this, you will learn all the ways to be eco, and at the same time save a little on health and cleaning products. It also provides the best knowledge pill about Piurif's innovative and probiotic products.
LG+- a must-have for all those who want to be up to date with the latest events and news at the DuoLife Club. Do not be afraid to use this term - it is an elite group dedicated to Club Members with the Group Leader position, which facilitates their quick promotion in the DuoLife Club structures and gives the opportunity to reach out for more!
DuoLife Online - this group of about 2,000 users brings together people aspiring to join the DuoLife Club. Its members are aware of what is happening inside the company, they have access to information about zooms with outstanding experts in personal development and all news!
Language fanpages- an excellent marketing tool for developing networks outside Poland. Major events, webinars and product knowledge packaged in a pleasant way.
Once again, we invite you to all Facebook pages from the vast DuoLife family. Join us and stay up to date!
Make every day unique…
Back to the list of news