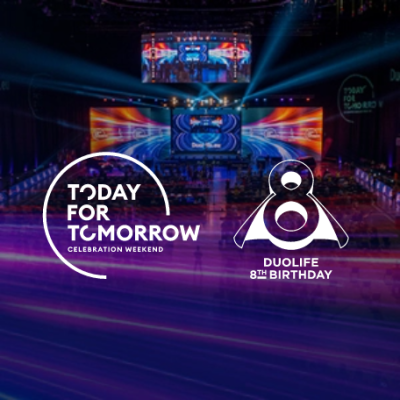 Thank you for your participation in the 2nd edition of TFT! You were wonderful!
24.11.2021
Dear Club Members,
The second edition of the Today for Tomorrow | Celebration Weekend (TFT) is all over now, and we would like to deeply thank you for the entire event. Thanks to you, TFT was wonderful, full of passion and moments that will long be remembered. It was wonderful to meet you and feel the amazing energy of DuoLife!

Thank you for your presence at the event, for active participation in the prepared sessions and for a crazy and extremely joyful party on the occasion of DuoLife's 8th birthday! Having such an original, creative, and simply phenomenal community at your side is the best reward for the work we put daily into developing DuoLife. We are glad that you are with us, that we can always count on you and celebrate our successes together.
The second TFT event is an extremely significant milestone in DuoLife's history. Once again, we have shown the whole world how strong we are, what our capabilities are and, above all, how much fun we can have and how much we can enjoy what we achieve together. Once again, thank you most sincerely for accompanying us on this wonderful adventure! Remember that we will meet again in Arena Gliwice on the 3rd edition of TFT, on 09-10.04.22. If you would like to experience magical moments once again and gain new practical knowledge, just join us.
We would like to remind all Club Members who bought a ticket for the 3rd edition of TFT during the last event that it is necessary to pay for the ticket within 7 days from placing the order. The tickets will no longer be valid if no payment is made. We would also like to remind you that there is a limit of 3,000 participants at the next TFT event.
Let your every day be a special day…
Back to the list of news