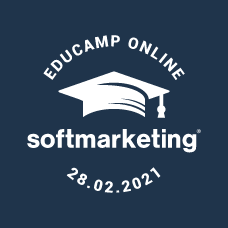 Softmarketing® EduCamp Online III - you can't miss it!
2.11.2021
Dear Club Members,
The 3rd edition of the training event softmarketing® EduCamp Online is coming soon. We will meet already on 28.02.2021 to gain new, practical knowledge that will lead to success with the help of Beata Kapcewicz and Joanna Gdaniec! Be sure to join us!
The subject of the upcoming event is "Master communication: in business, team and personal relations". As you have probably guessed already, this time we will be discussing the issue of proper communication without which no successful business can be built and which greatly facilitates the way to the top.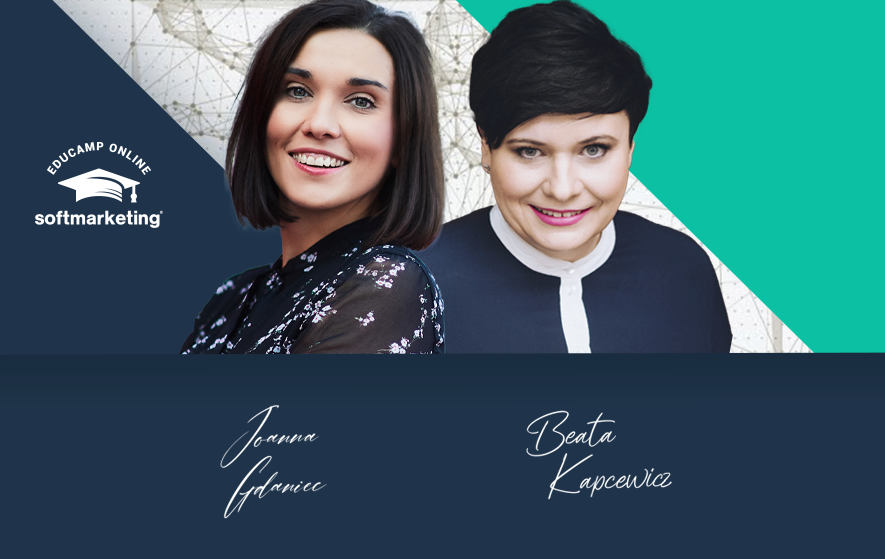 Co-Founder of Momentum Way and President of Personal Excellence Network
For 14 years as a sales manager, leader, trainer and facilitator of the Momentum Method, she has been helping leaders, managers and entrepreneurs increase sales and operate with values. She created the IMPROsale method, bringing the groundbreaking art of professional IMPROVISING to business. Co-creator and expert in softmarketing® - an innovative business model and a global value-based leadership development system. She works with boards, managers and top leaders of organizations that base their business on leadership, Man in the Spotlight and the principle of continuous development. Co-founder and for 5 years Vice President of Momentum Way, responsible for sales and team building.
Co-founder of Personal Excellence Network and President of Momentum Way.
President of Momentum Group, a turquoise organization that combines modern forms of training based on the idea of practicing knowledge. Momentum Way elevates the results and quality of leaders in business and life to the next level. She teaches how to create big visions and set goals and helps you achieve them, leading teams to above-average results. She is a book author and media expert on business, career, personal brand and leadership. She has helped thousands of leaders and entrepreneurs in Poland build LOVEbrand strategies, successful businesses, leadership mindsets, true engagement among employees and a personal brand within the organization.
Join us, gain new knowledge and see for yourselves that everything can get much simpler!
Note
Stay alert! Ticket sale closes as early as 27 February 2021, 10:00 a.m.! Anyone who purchases a ticket, regardless of when they do so, will not receive a registration link via email until 27 February 2021. Within one hour the ZOOM app will generate a unique event invitation. On the event day, i.e. 28.02.2021, just clickin the invitation to join the Softmarketing® EduCamp Online III participants.
The event will be held in Polish, with translations into Russian and Slovak available on the ZOOM platform for club members and their guests. We are starting at 10:30!
Agenda of softmarketing® EduCamp Online event: Master Communication in Life and in Business
Trainers: Beata Kapcewicz and Joanna Gdaniec
09:00 – 09:15
Opening for TOP leaders
09:15 - 10:15
Session for TOP leaders - above Regional Director - Beata Kapcewicz, Joanna Gdaniec
3 main roles of a Communicator Leader.
How to organize strategy and communication system in large organizations?
Question and answer session.
10:40 – 11:30
Two ways of acting and communicating in life, team and business - Joanna Gdaniec
What are the 2 ways of acting and communicating in life and business?
How to consciously choose the way to communicate effectively and achieve personal and team results?
What to do when emotions take over and communication is no longer effective?
How to regulate emotions "here and now" when they take over in communication, life, family and team?
12:10 - 13:30
How to talk to get along? - Joanna Gdaniec
Why do we find it easier to get along with some people and challenging to communicate with others?
How do we perceive the world and how do we solve problems?
How do we think, how do we act and how do we achieve results in life and business?
How to tell what a client, life partner, child needs from us in communication?
What do people with different communication styles need to make life and business decisions?
How to interpret and understand messages and behavior of the other party?
How to choose messages to different people during business meetings in order to create sales opportunities?
14:00 - 15:00
Feedback - how to show your perspective and change people's beliefs and behaviors in business,
team and personal relationships?
Why judging does not bring results?
How does the brain respond to feedback?
How to communicate and talk so people can adopt your perspective and way of looking at the world?
How to talk to people to effectively invite them to change their thinking?
15:40 – 16:20
From conflict to agreement - how to creatively differ and argue, and how to turn conflict into an advantage for the team? - Beata Kapcewicz
9 levels of conflict
Conflict and confrontation as the basis of team engagement.
How to talk about difficult issues and reach agreement?
How to make conflict a basis for developing and strengthening relationships?
16:20 – 17:00
Workshop and closing of the program
Let your every day be a special day...
Back to the list of news