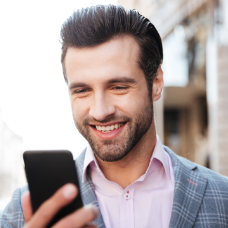 SMS notifications from DuoLife – why is it worth getting messages from DuoLife?
7.03.2020
Dear Club Members,
As you well know, one of the channels of our communication with you are text messages, which we use to communicate the most significant issues. We send you messages free of charge and that is why we would like to convince you to receive and follow the sent notifications. That way you will be the first to learn about crucial questions connected with the life of the company, product novelties, events and many other issues. It is really worth using this service and being even closer to DuoLife.

Dear Club Member, it's important!
It is worth checking whether the phone number quoted in your Club Member Panel is current. How do you do that? It's enough to click the button below and in a second you will find yourself in the right place:
If, however, you don't want to get text messages from DuoLife, it's OK, we understand. Just remember that to this end you have to uncheck your consent for receiving text messages - you can do that in the Club Member Panel. We present a short instruction below:

Step 1 - once you've logged in to the system, go to the "Your Profile" tab.

Step 2 - click the "Change" button visible on the right-hand side, which takes you to the subpage with personal data.

Step 3 - scroll the page down and uncheck the two final boxes, in which you give your consent for us to send free text messages, and then click "Save".
Of course, you have to act the very same way if you don't get SMS notifications and you would like to change that. We keenly encourage you to do it!
Let your every day be a special day…
Back to the list of news