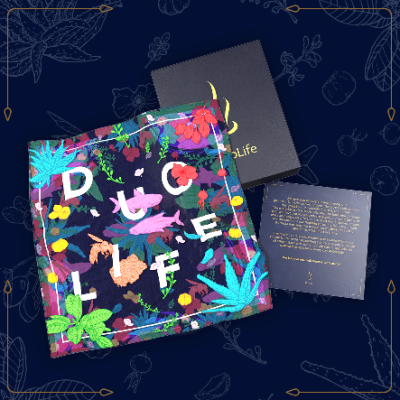 Small detail that makes a great impression! Check out new elegant accessories in our DuoLife shop!
13.01.2023
Dear Club Members,
Imagine going to a business meeting, a formal dinner to finalise an important deal or simply a date with someone you care about a lot. In either case you would want to look as elegant as possible. In our shop, now you can find a stylish scarf and pocket square branded with the DuoLife logo. These accessories will elevate any outfit and add a unique touch to any meeting.
The pocket square and scarf are made of 100% silk and feature hand-stitched hems for an extra touch of class and originality. The colour schemes reflect our flagship products from the Liquid Formula line and the motifs used refer to the ingredients they contain. These accessories should be a must in the wardrobe of any lover of good style and elegance.
The pocket square and the scarf have been produced based on the same principle as any other products in our portfolio - with respect for nature and ethical standards, using exclusively natural components. This makes them as special as every day at DuoLife. We hope you will be proud to wear them!
They are also perfect as a gift for your loved ones. Remember that Christmas is coming. Elegant accessories branded with the DuoLife logo will be a great gift under the Christmas tree!
We encourage you to visit our shop!
Let your every day be a special day…
Back to the list of news