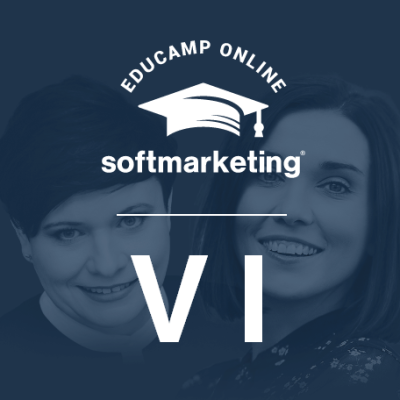 Reach for success with the team - 6th softmarketing® EduCamp Online coming soon
9.07.2021
Dear Club Members,
Do you want to become a real authority in your team and develop more leaders in the organisation? If so, we invite you on 25.09.2021 to the 6th softmarketing® EduCamp Online, which will be led by Beata Kapcewicz and Joanna Gdaniec. This event is simply not to be missed!
6th softmarketing® Edu Camp Online
Reach for success with the team
25/09/2021
The theme behind the 6th softmarketing® EduCamp Online will be: "Reach for success with the team" This time our training event will be focused around the broad topic of leadership, development and finance. Join us to find out who a true leader is, one that others are willing to follow, and how to create your own individual development path. In addition, during this unique event we will show you the stages of working with a team and how to define priorities in order to become a real leader and develop more leaders in the organisation.
The secrets of business knowledge will be presented by prominent hosts: Beata Kapcewicz and Joanna Gdaniec, who have been working with DuoLife for many years and have already helped thousands of people change their lives for the better.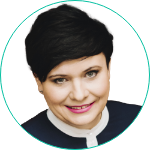 Beata Kapcewicz
Co-Founder of the Personal Excellence Network and President of Momentum Way
International speaker and trainer. Mentor of bold brands, leaders and coaches. She has already helped thousands of entrepreneurs in Poland and abroad build a LOVEbrand strategy, successful businesses, leadership attitudes, genuine commitment among employees and a personal brand in the organisation. Her programmes are attended by both leaders from large corporations and entrepreneurs who want to consciously lead teams to above-average results. She is a book author and a media expert on business, career, personal brand and leadership.
Joanna Gdaniec
Co-Founder of Momentum Way and President of Personal Excellence Network
Business practitioner, international trainer, speaker and facilitator of the Momentum Method. Expert and co-creator of softmarketing® - an innovative business model. Co-creator of a global business leader development system based on values. She works with company boards, managers and top leaders of various organisations who base their business on leadership, the idea of the human being at the centre and the principle of continuous development, combining art and business. She was the first in the world to combine the principles of professional IMPROvisation with the principles of ethical sales, creating an innovative and unique method of IMPROsales that is used today by thousands of business leaders and salespeople in Poland and abroad.
Note!
Stay alert! Tickets are on sale only 
until 24.09.2
1 by 10:00 am! Once the sale has ended, everyone who has bought a ticket and assigned it correctly will receive a registration link via email. Within one hour the ZOOM app will generate a unique event invitation. On the day of the event (i.e. 25.09.21) , simply click on the button  in the invitation to join the participants of the unique 6th softmarketing® EduCamp Online event. Also remember to assign a specific Participant to
each ticket.
The event, held in Polish with simultaneous translation into Slovak, Czech, French and Russian, will take place on the ZOOM web platform and is aimed at Club Members and guests.
If you want to find out what it means to be a real leader, you must take part in the 6th softmarketing® EduCamp Online! And remember, an effective leader means an effective team.
Let your every day be a special day....
Back to the list of news