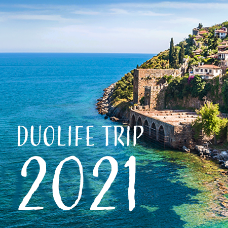 Qualification for Management Trip 2021 started!
16.10.2020
Dear Club Members,
we are happy to invite you again to the Management Trip organized as part of the DuoLife Trip. Are you curious what we have prepared for you this time?
Beaches covered with golden sand, blue sea, a wealth of monuments, exotic vegetation, as well as nightclubs and loud bars - all this you will see in wonderful Turkey.

Learn the rules of qualification and enjoy the beauty of Turkey with us!
The new qualification for Management Trip 2021 will start on 16.10.2020 and last until 15.06.2021.
Note!
As in 2020 the Management Trip did not take place, the qualification for the 2020 trip is moved to the trip organized in 2021. Therefore, some of you can already prepare your suitcases! Information about the qualification will be sent to you via e-mail in the near future.
Bear in mind that those of you who have already obtained the above mentioned qualification and are holding the position of Regional Manager or Senior Manager in grace period will take part in the trip to Turkey - it is enough that you keep this position until the date of the trip (the date of the trip will be determined by the epidemiological situation in the country and in the world) and your turnover do not fall below the Team Manager's turnover.
Management Trip 2021
Qualification period: 86. SP – 93. SP
Position
Total points in 86-93
SP (8 SP)
Average monthly number of points in SP
Amount of funding from DL
Regional Manager
≥ 360 000
≥ 45 000
100%
Regional Manager
288 000 - 359 999
36 000 - 44 999
75%
Regional Manager
180 800 - 287 999
22 600 – 35 999
50%
Regional Manager
≤ 180 799
≤ 22 599
0%
Senior Manager
≥ 640 000
≥ 80 000
100%
Senior Manager
512 000 – 639 999
64 000 – 79 999
75%
Senior Manager
320 000 – 511 999
40 000 - 63 999
50%
Senior Manager
≤ 319 999
≤ 39 999
0%
Director (applies to every position)
n/a
-
100%
Director historically
Calculated according to current rank
-
0%
Vice President
-
-
100%
Note!
The sum of points in SP refers to the sum of points achieved by the Club Member in the open line.
A new Regional Manager, new Senior Manager or new Regional Director must maintain his position or be in grace period by the day of departure (the date of departure will be determined by the epidemiological situation in the country and worldwide) in order to benefit from 100% funding from DuoLife.
A Senior Manager, if there is no Regional Manager in his or her structure, has point turnover counted in the qualification of Regional Manager and not Senior Manager.
We hope that you will soon embark on another exciting journey with us. We encourage you to follow our website and social media channels, where we will soon reveal more details about your upcoming trip with DuoLife.
Let your every day be a special day…
Back to the list of news