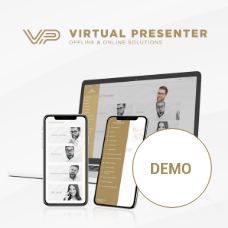 Od dzisiaj możesz za darmo przetestować nasz wyjątkowy międzynarodowy system Virtual Prezenter Demo
2.03.2021
Dear Club Members,
building business, conducting recruitment and managing a team have never been so easy! Thanks to Virtual Presenter Demo, available only for DuoLife Members, you can do your tasks effectively and smoothly from any place in the world!
The demo version of Virtual Presenter, which will be available in Polish, English, French, Russian, Hungarian, Czech, Romanian, Italian and German languages, is aimed to meet your needs and expectations. Thanks to the app, you can check what it's like to work on an innovative system from DuoLife, what opportunities it offers and what you can achieve thanks to it. Virtual Presenter Demo gives you free of charge, among others:
the possibility of testing free of charge the app Virtual Presenter Demo;
the possibility of checking 120 movie materials in 9 languages;
full access to advanced skills;
full access to the tab 'Live Consciously';
the possibility of accessing most of the functions of the system, among others:
sending links with recruitment paths (up to 5 persons);
entering persons on the list (up to 10 persons);
quick access to your own recommendation link.
free access to Virtual Coach Demo, i.e. the first two lessons of courses Business, Life and Development;
access to all instructions concerning DuoLife Office;
free access to panel DuoLife Studio, where you will find information and education materials with dr h.c. Piotra Kardasza, Przewodniczącego Rady Naukowej DuoLife, oraz mgr Małgorzaty Karpinskiej-Trojanowskiej, Ekspert DuoLife, dotyczące naszych produktów;
Virtual Presenter Demo is a guarantee of transparency, which is with us in DuoLife at every step we take. Thanks to the app you will see that activity in DuoLife Club can be simple, pleasant, effective and rich in successes! An additional advantage is the possibility of using the system as a tool which will allow potential Club Members to check what our business model is about and what profits are awaiting them, which will certainly make the recruitment easy! Join the rich world of Virtual Presenter today and start your march for success!
Aby każdy dzień był wyjątkowy…
Back to the list of news