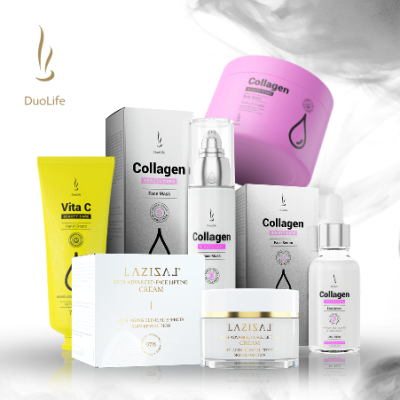 New quality and even more benefits - see how DuoLife cosmetics change!
15.12.2022
Dear Club Members,
consistently implemented strategy #DuoLifeGoUP! will soon bring further results, as our cosmetics will be improved even more. All our changes are primarily based on your suggestions and feedback. We also keep abreast of the guidelines defined in the Cosmetics Regulation (EC) 1223/2009 adopted by the European Parliament so that we can ensure that our products are completely safe and their composition complies with European law. Be sure to see how our cosmetics are changing!

On 25 November 2022, we introduced in our shop an improved version of LAZIZAL® Rich Face Lifting Cream 50 ml with a new outer packaging (made of glass). The new version of LAZIZAL® Rich Face Lifting Cream 50 ml also involves improved composition. It has been enriched with an ingredient that provides even better hydration and is essential to the proper skincare.
And that is not all. The new version of LAZIZAL® has also unique accessories: an aluminium seal (to protect the contents of the product in the jar) and a handy spatula for application!
Every day, we make every effort to provide stunning changes in our cosmetics as in the new LAZIZAL® Rich Face Lifting Cream 50 ml. We are currently working to improve DuoLife's entire cosmetic portfolio. Improved cosmetic products account for only 8% of the all products purchased. But you do not have to worry! Some of them will return to regular sales as early as the first quarter of 2023 in an even better, absolutely unique version. There is a lot to look forward to!
You can be sure that 2023 will be spectacular and that the improved versions of our cosmetics will meet your expectations! And now we will lift the veil of secrecy: the new versions will include Keratin Hair Complex Conditioner 200 ml, Keratin Hair Complex Shampoo 200 ml, and Collagen Day Cream 50 ml. We'll share more information soon!
In the meantime, do not hesitate to visit our shop with our cosmetic bestsellers, including:
Collagen Body Butter 200 ml;
Vita C Hand Cream 75 ml;
Chlorofil Body Scrub 200 ml;
Collagen Face Mask 50 ml;
Collagen Face Serum 30 ml.
Feel free to place your orders!
Let your every day be a special day…
Back to the list of news