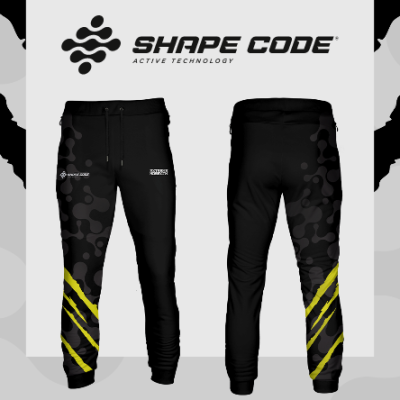 New from the SHAPE CODE® brand – men's sweatpants!
16.12.2022
Dear Club Members,
The winter period is a perfect time to take care of your physique! Nothing will make your daily workouts easier than men's sweatpants from SHAPE CODE® brand! Would you also like to have them in your sports closet? If so, you are welcome to visit our shop.
SHAPE CODE® Sweatpants are suitable for a wide range of sports. They are ideal for wearing during daily workouts, providing comfort and freedom of movement while performing even the most complex exercises. It doesn't matter if you run on a treadmill, lift weights or do splits. With SHAPE CODE® Sweatpants, every workout will be even easier, and you won't have to worry that the pants you're wearing are restricting your movements.
Here's what sets the SHAPE CODE® Sweatpants apart:
---
moisture removal system allows for a long period of heat retention and helps the product to dry quickly.
composition: 100% polyester – ensures quick drying and product durability.
Are you ready for more workouts and even more spectacular results? Choose SHAPE CODE® Sweatpants and break more sports records in the spirit of the #DuoLifeGoUP idea!
* The SHAPE CODE® Sweatpants Man are available for purchase as of December 16, 2022, in all zones, except for: GB-GG-IM-JE-XI, UA, AU-BY-IL-GE-UZ, EAST.
Let your every day be a special day…
Back to the list of news