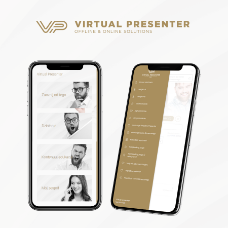 Mobile app Virtual Presenter has been launched! Build up your business in your smartphone!
16.01.2021
Dear Club Members,
learn more about a tool thanks to which running business in DuoLife will become even simpler, and which will make you develop even faster - an amazing mobile application Virtual Presenter!

Our app is avilable in all system languages and it allows implementing the same processes which are available in the standard version of Virtual Presenter, plus additionally:
it ensures faster and easier access to Virtual Presenter functionalities;
it allows you to send materials without having to use the browser and logging on to the Virtual Office;
it displays reminders and notices about the viewed films and successes;
it ensures quicker service of the new Club Member/potential Partner;
it facilitates building up a fully international business using only a smartphone, which is always at your hand!
If you are using the Virtual Presenter, then you must instal the app as quickly as possible. It is yet another innovative solution from DuoLife, which will be a very valuable support in your path to success, allowing you to achieve your business objectives!
The mobile app is available free of charge for the users who have bought Virtual Presenter.
How to download the app Android:
How to download the app IOS:
Let your every day be a special day…
Back to the list of news