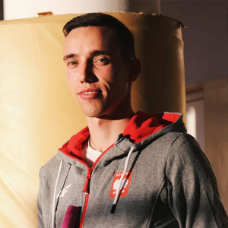 Meet Poland's hope for the Olympics
20.05.2020
Learn more about Patryk Dobek's success,
Meet Patryk Dobek - an ambassador of DuoLife brand and Poland's hope for olympic medals during the biggest sports event which will be held in Tokyo in 2021. How did it happen that he became a specialist in hurdle race and which DuoLife supplements he chooses in his daily life? Read the interview with the athlete.


You need to start from something - big companies were born in garages, sportsmen from front covers of the magazines spent hours getting to the trainings, and how did Patryk Dobek start?
My first contact with the athletics was between grade 2 and 3 of the middle school in Karcin, which I attended. Before that I was just physically active. I played football a lot in the local cluub Gwiazda Karcin, and I got to trainings 4 kilometres, often by bike. On the football field you can prepare for speed trainings really well. It was my PE teacher who drew my attention to athletics. And this is how individual competitions started. When I got my first athletics traning program, I didn't even understand it. I moved from school to the athletics club and this is how my career began. I was one of few people from a small town who started a serious adventure with this sport. From the very beginnings, I remember the competitions in which I competed with athletes who were older than me. The coach told me to keep one step behind them, but on the last metres, when they were out of breath, I started to overtake them.

When did your hurdling speciality become clear?
In the beginning, I ran non-olympic distances, i.e. 300, 600 and 1000 metres without hurdles. Then, when I was competing as a primary age junior, olympic distances were valid, i.e. 400 and 800 metres. The coach decided that I should run 400 metres. Although honestly I have a lot of strength potential, but it was on 400 metres that I achieved best results being a junior. To be successful on 400 metres, you need to be a pro sprinter, especially when you look at the top wolrd winners. Later, I competed on 400 metres. At the end of junior season, I tried hurdling. And similarly in the next season. I was so good that I started to specialise in that.

How do hurdles contribute to your preparations?
The specific thing about hurdling is coordination and good feeling of rhythm between the hurdles. It's almost like a dance. When you're between hurdles, you need to feel the given situation properly. You're forced to be even more focused. Concentration is very important, cause if you hit the hurdle, there's next one ahead and it's easy to get distracted and out of rhythm.

How do you find yourself among the best athletes in this discipline?
We exchange just a few words. We wish good luck to each other. In the South Africa, there's also my competitor is from Estonia, so we exchange remarks on the training and health. There's no envy, no jealosy - just fair competition.

The Tokyo Olympics are upcoming (the interview was made before they were postponed to 2021). How are the preparations for this biggest sports event in the world?
At present I'm on the campus in the South Africa. I'm starting to feel all the kilometres I've done. The preparations are going really well. I've beenn training under a wathful eye of my coach who very precisely defines my training plan and controls each aspect. We pay special attention to the running technique and the way of getting over the hurdles so that we're perfectly prepared for the Tokyo run. Before the Olympics, I have some indoor and outdoor competitions to do. The next preparatory campus is planned in Spała. I'm already thinking about my running tactics. I approach it without unnecessary pressure. The thing about the Olympics is that they're at the top world's sports level.


As we know well, you support your body daily with DuoLife dietary supplements. How do you use them?
ProStik and Collagen are perfect for my lifestyle and trainings. The substances which they contain are crucial - they help me strengthen my muscles and recover for another training unit. Chlorofil also helps me to a great extent, as in one of the seansons I was on the verge of anaemia, but since I started to supplement this product, the level of iron has strongly improved. Additionally, when a sportsmen are training, they lose the basic immunity, that's why I also use Vita C. Then I know that my body is ready for action and nothing will surprise me. Disease, injuries are moments which ruin all your preparations. DuoLife supplements help me to prevent such situations. Thank to that you can prevent the risk of losing all your hard work which you do on the running track, improve your mood and readiness for the training.

What's your motivation to constantly improve your results and raise the bar?
For sure, the support from my family and my wife is very important to me. These are the closest persons who go to competitions with me and support me. The fans, who are most loyal. This gives me an additional energy boost. I do it for them. Mutual support matters not only on the running track. Thanks to the people close to you, you can get to the top. I think that it's similar in the DuoLife Club, where you can draw lots of energy from your Team's support.
Thank you for the interview and we wish you further sucesses!
Back to the list of news