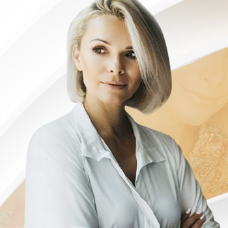 Marta Gąska is the new DuoLife brand ambassador
21.01.2020
Dear Club Members!
The group of DuoLife brand ambassadors has grown by another inspirational person. Marta Gąska, one of the best Polish makeup artists and unquestionable authority in the field of makeup will play in our team!

Marta Gąska is known primarily from the program "Dzień Dobry TVN", in which she runs her own makeup cycle Maluj się kto może. She has worked with the biggest stars of the national stage (including Edyta Górniak, Justyna Steczkowska and Małgorzata Socha), and she created phenomenal make-up in such television shows as Taniec z Gwiazdami, Dance, Dance, Dance , The Voice of Poland, X Factor and The World of Dance.
Our new Ambassador has been running his own make-up school for twelve years, in which dozens of people are trained every year. In addition, she shares her vast practical and theoretical knowledge during numerous training sessions and workshops in the field of make-up and image, and also acts as an expert in visage in numerous television programs (including Projekt Lady, Sablewskiej sposób na modę, Pojedynek na modę, Przeszyj to sam). We are convinced that together with Marta, we will reach for more!
Let every day be a special day…
Back to the list of news