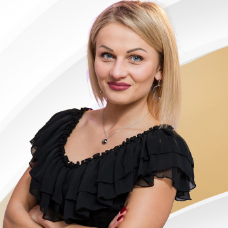 Julia Czernicka, the new DuoLife Brand Ambassador
21.07.2021
Dear Club Members,
We are always glad to welcome exceptional and unique personalities to the group of DuoLife Brand Ambassadors. That definitely applies to Julia Czernicka - our new Ambassador in the Ukrainian market.
Julia Czernicka
New DuoLife Brand Ambassador
Mother of 4 daughters
Ukraine's record holder in half marathon 2017 (the first mother who ran 21.195 km pushing a pram with twins)
Originator of the brand and project fitnessmama.com.ua
Coach in personal slimming marathons
Blogger
Welcome to
DuoLife
Julia is a mother of four daughters and the first mother who ran the half-marathon distance (21.195 km) pushing a pram with twins. Julia has been doing sports since she was 11 years old. She started with judo, which she practised for four years. She also played basketball and was on her family town's team.
In Julia's case, what was originally merely a hobby - sport, wellness and fitness - in due course of time turned into her way of life. After giving birth to her second daughter, she decided it was high time to convert her biggest passion into business. Julia became a coach in a sports club and it is three years now that she has been providing support and a great deal of motivation to her clients. By coaching other people, she develops her own skills and sets new goals for herself. 'Sport is my business. I earn my living and develop myself as a coach, personality and mother,' says Julia, who is also the originator of the project fitnessmama.com.ua and a coach in personal slimming marathons.
We believe that with Julia we will be able to reach new heights in business and help you change your life for better, in terms of your health and finances.
Let your every day be a special day…
Back to the list of news