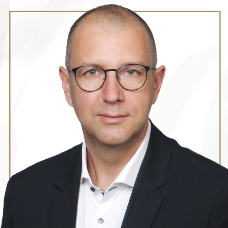 Jaroslaw Flis as new Business Development Director DuoLife S.A.
17.02.2021
Dear Club Members,
In order to provide you with even greater opportunities for rapid growth, we have taken another milestone in the development of DuoLife S.A. and your business. Meet Jarosław Flis, DuoLife's new Business Development Director DuoLife S.A., a top-notch professional with an impressive track record and a father of success of some of the largest companies.
Jarosław Flis brings to DuoLife over 30 years of experience in MLM industry, which he gained while working for companies with international reach. He knows perfectly how to create markets from scratch, how to develop them and how to work with Leaders, which makes him a perfect fit for such an ambitious project as DuoLife!
Jarosław Flis
New
Business Development Director
DuoLife S.A.
- My experience allows me to say that the future of any company in this industry, its map of development, can be accurately predicted by getting to know the people behind these companies, their Founders and today's Leaders...[…] This is an industry of partnership, and softmarketing® based on universal values, with people at the center, through joint responsibility for the future, building business, conscious customers, with a unique forge of Leaders, is the best indicator of the future, the upcoming global success. That's why DuoLife is unique on a global scale - with these words DuoLife's new Network Development Director comments on his decision to join our company.
We are confident that you will soon be able to meet Jarosław in person and have many interesting conversations with him on key topics. With such a professional on our team, the future looks exciting!
Let your every day be a special day...
Back to the list of news