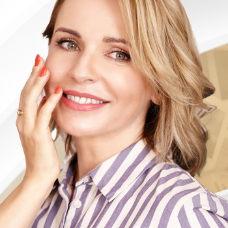 Iveta Stecova becomes a new DuoLife Brand Ambassador!
1.12.2021
Dear Club Members,
At DuoLife, each day is a special day and that's why we have a great pleasure to greet among the Ambassadors of our brand another special person: Iveta Stecova, an accredited gymnastics teacher with lots of successes to her name and a supporter of healthy lifestyle.
Iveta Stecova
becomes a new DuoLife Brand Ambassador
Apart from gymnastics, Iveta is active in the beauty industry. For many years she has been advising women at the highest professional level how to take care of their skin and beauty, and how to stay young for longer. She is the face of the FACEFIT programme, which deals with the more and more popular question of facial gymnastics, and a staunch supporter of natural beauty, free from invasive treatment, based on proper care, responsible lifestyle and regular exercises.
Our new Ambassador wants to convey to all DuoLife Club Member all the best from her philosophy and approach towards life. She is convinced that our cooperation will show men and women the road to health, comprehensive care for their beauty and vitality!
Iveta, let us once again give you our most hearty welcome in the circle of DuoLife Brand Ambassadors. We're glad to have you with us!
Let your every day be a special day…
Back to the list of news