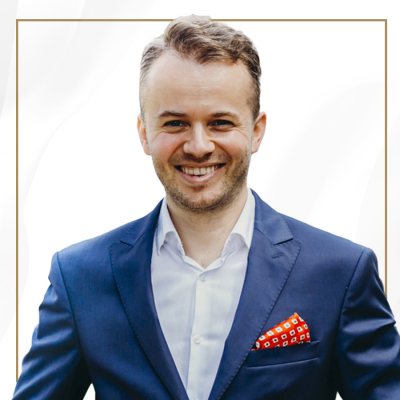 I have achieved all my goals related to financial security. I'm implementing higher ones now - interview with Leszek Narloch
12.11.2020
Dear Club Members,
Leszek Narloch, General Director of the DuoLife Club, is a one-man institution. Always ready for action, full of creative ideas and concepts that help create real Leaders! Leszek's adventure with business has had different shades; it is not lacking in moments of doubt and crisis, but above all, it is full of success and accomplishments. It is thanks to them that Leszek lives today as he wishes, pursuing his passions and implementing subsequent projects.
I have achieved all my goals
related to financial security.
I'm implementing higher ones now.
Leszek Narloch
General Director of the DuoLife Club
How did he start? Why did he fear success? How did he meet thanks to MLM... his wife? You will find out all this from the interview which Leszek Narloch gave to "Network Magazyn". Enjoy your reading!
From a mason helper to the General Director of the DuoLife Club
His first job was helping at the construction site. Now, at the age of 35 years, he earns more than PLN 80,000 per month and will employ a company that will build a residential estate for him. He earned money for this purpose working as a leader of MLM companies. Working in the network business, he also met his wife, Katarzyna Narloch. He ran and helped to establish the International Financial Intelligence Clubs Cashflow and Toastmasters. He is the creator of an organization that supports the success in MLM, www.SukcesMarketing.pl, a practical personal development brand, www.4lifeup.com, and an online calendar, www.succesmind.club.

Palms, blue skies and a beautiful beach. I saw this view on the monitor when Leszek directed the laptop camera to the window of his apartment. "For a long time I wanted to spend the autumn and winter in a warm country. It is now that I am making this dream come true," he said with satisfaction, answering the question about why he is staying in Dominica from the beginning of November.
How long do you plan to stay in Dominica?
If our goals and plans work out, even until May next year. It is possible that we will go to another place in January, as you can only stay 90 days in Dominica. As I and Kasia like hot weather, a country like Dominican Republic is a paradise on earth for us.
Apart from the palms, beach and a pleasant temperature, what else do you like there?
The ocean and the seaside areas are beautiful, well-maintained and clean. People are smiling and happy. Fresh and healthy food. We have been travelling with Kasia for years, and we check whether a place could be our second home, and I must admit that I consider buying an apartment here.
Does your wife also work with DuoLife S.A.?
Yes, she is in the position of Regional Director of the DuoLife Club. I admire her for how she runs business and her organization. Initially, she watched, and now, she is a great leader with strong experience. I'm proud of her. She is also a coach for Structogram Polska. It is a system developed in Switzerland that, based on findings about the differences in brain function and their impact on the behaviour of individuals, can improve personal efficiency. She loves people and enjoys helping them. She has great patience with them and shows lots of care.
So this is a family business.
Let me tell you how we have met. My very good leader has asked me to make a presentation for his sister because, as it happens in the family, it is more difficult to convince the people closest to you. I have presented her how MLM works, and today we are a married couple with common goals and business.
So you are very effective in making presentations!
At first, I did not know how to make them at all. I learned to give them only in the third of the financial consulting companies with which I worked. There I also built my ten-person team. I was good at it, so I decided to build a structure with one of the companies of MLM. I got to know this industry thanks to a person who worked in Amway. I didn't succeed there because I lacked the right knowledge and skills, but it was a time when I gained a better understanding. I didn't read any books before, I started doing it at that time. The first was "Rich Dad Poor Dad" by Robert Kiyosaki. I also listened to cassettes of the best American leaders. Then I started to wish not to work a day job until the end of my life, so that I do not have to eat a sandwich during a break only if my boss allows me to do so. I decided to become a free man.
And where did you work before you started selling investment funds?
My first short job was to sieve gravel. I worked as a mason helper for 5 PLN per hour, from morning to evening. I was 17 at that time. While I was a student, I worked in a restaurant in France, then as a trainee of a career office at a university where I received a job offer. In the meantime, I ran the CASHFLOW financial intelligence club and the Toastmasters speakers' and leaders' club in Bydgoszcz. When I started to succeed, I became confident, learned to talk to customers and sell, I decided to take up a career in MLM. I knew two network marketing companies before, but in one I did nothing, and in the other I started, but I did not achieve anything. In turn, it was a moment in my life, when I felt that this was the right time, and I started the third time. That was when I achieved success in the network business.
What was your greatest challenge on the path to success?
It was certainly my mindset and attitude to money. My parents and friends have never talked about entrepreneurship and financial management. In my community and in the church I heard that being rich is something wrong. Even when I earned good money, the thoughts came to my mind that, if something goes well, it will in the end go wrong... I remember the situation when I was driving and such a thought crossed my mind: "It is too good, so something will fall apart in a moment." It did not take a long time before that happened; I had an accident in a moment. Somebody hit my car from behind, and I was at a railway crossing. The car was a complete write-off. Another time I thought that for a long time I had not been fined. And in a moment, a policeman jumped out and handed me a fine. I was afraid of that I was earning more and more. This required work on my own beliefs. I became a creator, an entrepreneur and a leader thanks to years of self-education and development.
What were the most difficult moments in your life?
I had two of these. They were the most difficult, but they also brought about something wonderful. The first was before I learned about MLM. I was 21 years old and my girlfriend broke up with me. I didn't leave my room for a long time. This event gave me a big impulse to do something with my life. The second was when, after many years of working with the previous MLM company, I realized that it was not heading in a direction consistent with my values, and my partners were unable to move up and stood in place. A lot of nasty things started to happen. I paid for it with health issues and it took me half a year to get better.
It was after this event that you started working with DuoLife S.A.?
Not immediately. At the beginning, I and my friends thought about setting up our own MLM company. Only when we saw how much work and money it takes before such a company becomes profitable and how many risks there are, we decided that it was better to join a company that has reliable products and a very profitable marketing plan, as well as a vision and development prospects for many years I have met the main product creator and the management. There have been a lot of talks and hope grew because the belief that I and my team will be able to realize our potential was back. In DuoLife.
What do you think about softmarketing® - the business model based on which DuoLife S.A. operates?
It's a hit. A brilliant strategy that demonstrates the wisdom of the owners. It puts people at the centre. Leaders are important for the company, and it takes our opinions into account. I feel safe in this company in this regard. Of course, like everyone, nobody is perfect. But love is about looking in the same direction and creating opportunities and space to realize your potential. Four owners are so different from each other; each of them has something unique; two of them were once MLM leaders, and thanks to this, they understand the Club Members very well.
What is your greatest achievement?
Creating many successes of leaders who earn so much money that they have a great lifestyle: they work because they want, they travel, invest and have great financial freedom. It is very important for me that more people earn such money. DuoLife creates conditions for this.
What will your book be about?
It will lead readers through a mental process that allows them to change their thinking so that anyone who reads it can be successful. There will also be specific tips on building a team in the network marketing industry. I will teach in it through a story. Just as I was once inspired by the story presented in the book "Rich Dad Poor Dad".
You've achieved a lot. Have you achieved all of your goals?
I have achieved all my goals related to financial security. I'm implementing higher ones now. I help my leaders climb the ladder, run a large educational organization, organize training and events, create development programs, and make sure that everything goes well. In addition, I develop the 4 Life Up brand to serve everyone in their development, whether they are in MLM or not. I will also develop investment projects. The first is the construction of a residential estate. I already have a plot and I plan to start next year with the work. I love watching how what I do evolves, grows and ultimately succeeds.
Thank you for the conversation and I wish you every success!
"Let your every day be a special day..."
Back to the list of news