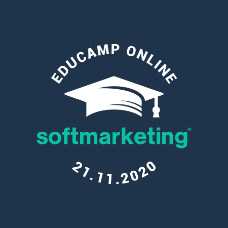 How to sign up and participate in the Softmarketing® EduCamp Online 2 training event?
10.06.2020
Dear Club Members,
as early as on 21 November 2020, another exceptional event in the series Softmarketing® EduCamp Online 2 with Beata Kapcewicz and Joanna Gdaniec shall be held. Registration for the training event is now open. See how the registration process works!
softmarketing® EduCamp Online
21 November 2020
TICKETS ON SALE UNTIL 19 NOVEMBER
Buy your ticket on the event page in MyDuoLife system. Hurry up! The number of tickets is limited and the sales ends on 19 November 2020, at 11:59pm! Each person who purchases a ticket shall receive the training record (valid for one month).
Assign the ticket to a specific person in the system and make sure to provide the correct e-mail address. Otherwise you or the person to whom you want to give the ticket shall not receive the registration link. After purchasing the ticket you will receive a confirmation from us at the given e-mail address. If you do not receive the message, contact us at eventy@duolife.eu.
On Friday, i.e. on November 20, 2020 you shall receive a special registration link from us, which shall redirect you to the registration form. After filling in all fields and approval on the part of DuoLife, we shall send you a special Invitation with a link to the event to the same e-mail address. Please note that this link will only work on one device, so do not share it with anyone. Due to the extensive registration process, we recommend registration on Friday after receiving the form.
On Saturday, the day of the event, enter the invitation and left-click the
>Click Here to Join button<
Remember that Softmarketing® EduCamp Online 2 starts at 10:30am – so do not wait until the last minute and join us in advance! See you there!
The event is in Polish and is intended for the Club Members and their guests.
Let your every day be a special day...
Back to the list of news