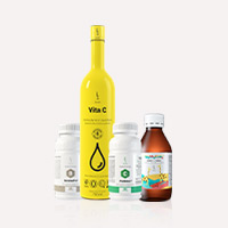 How to deal with a period of increased risk? Here is an advise!
4.07.2020
Dear Clubmembers,
the current epidemiological situation, as well as the precautions taken, enforce multi-level responsibility. This, in turn, is often associated with restrictions that you just have to ... accept and wait. The most important, however, is to go completely safe during this period, properly protecting your body. Are you wondering how to do it? Here i san advise!
First of all - eat healthy
A properly selected and properly balanced diet is the basis for caring for immunity and good condition of the body. First of all, take care that it contains products rich in iron and vitamin C. Also remember the necessary dose of vegetables and fruits, preferably at every meal!

Second – taka care of your sleep
To increase immunity, you need to take care of rest and sleep. Sleep 6 to 8 hours a day - thanks to this your body will be rested and properly regenerated.

Third - be active
Physical activity in the fresh air is a natural form of strengthening the body's condition. An hour run or series of exercises will definitely strengthen your immune system. Remember, however, not to overwork - then the effect may be counterproductive.

Fourth - open yourself to people
Yes you read it right. Personal contacts, especially in groups, are not recommended, but technology gives us a lot of ways to maintain relationships while sitting at home. In this difficult period, conversations with others are advisable, and you can do them by phone or instant messengers. Cutting away from the world can have fatal effects (including feelings of rejection, loneliness, and even depression), which has a very bad effect on the body's functioning. Therefore, show others that you are and open yourself to people!

Fifth - supplementation
Last but not least. Dietary supplements will equip your body with an additional dose of vitamins, minerals and nutrients, thanks to which it will be able to cope with the lurking threat. First bet on:
DuoLife Vita C
DuoLife Medical Formula ProSelect®
DuoLife Medical Formula BorelissPro®
DuoLife SunVital® Natural Kids Formula (w przypadku dzieci)

And all this so that even facing a complicated situation your every day was aspecial day …
Back to the list of news