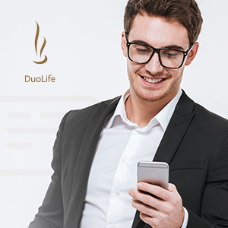 Further improvements - another game changer. Check out DuoLife Messages!
20.04.2021
Dear Club Members,
Be prepared for a real game changer! On 16th April 2021 we are launching our brand new, completely free mobile application DuoLife Messages which will present you with additional features and will improve your efficiency. DuoLife Messages is yet another tool which lets DuoLife Club aspire to leadership in the branch!
With DuoLife Messages mobile app you will not miss anything important. You will find out about new products, bargains, trainings, events, latest news and all that matters to DuoLife community! The messages in form of SMS, e.g. information about the Virtual Wallet top-up, the number of new Club Members in the organisation, or other important reminders which until now have been sent from MyDuolife system will reach you easily and without any delay! As of 16th May 2021 DuoLife Messages mobile app will replace SMS communication. Do not wait and download free DuoLife Messages app
DuoLife Messages is a tool available in all languages in which MyDuoLife system works. Thus each Club Member may use the application and be updated on what is going on in DuoLife!
The application receives push messages (messages from MyDuoLife system) and has a feature which enables sending messages to the so-called 'upline' - a person who has recommended the particular User to DuoLife Club. Message sending ensures quick contacts which may prove remarkably important for business.
Note!
Messages sent by DuoLife Messeages may have a maximum of 500 characters and a subject of no more than 100 characters. The feature of sending messages is available only to Club Members with an active subscription to 'Business Assistant'.
Each Club Member may download DuoLife Messages app for free in Google Play store and AppStore. Importantly, you do not need to set a new account in the app: in order to log in you need the same data which you use for logging to MyDuoLife system! You are strongly recommended to download the new application!
Let your every day be a special day…
Back to the list of news