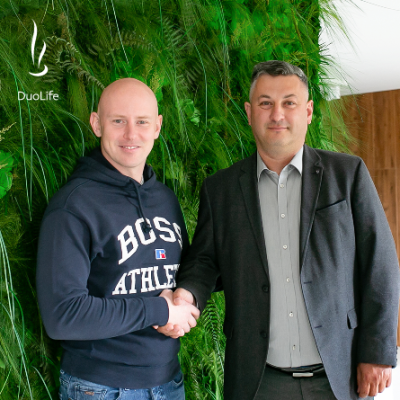 Fundacja "Ja też mam marzenia" becomes a new partner of DuoLife!
25.05.2022
Dear Club Members!
It is with great pleasure and undisguised pride that we would like to inform you that Fundacja "Ja też mam marzenia" has become our new DuoLife partner. We are glad that we will be improving the lives of more and more people together!

The purpose of the foundation is, above all else, about community activities aimed at the popularisation of sports and physical exercise.
The mission of the foundation is concurrent with the one of DuoLife; we do have a common cause of promoting a healthy lifestyle, sports and physical exercise. Our cooperation has already resulted in the first joint project. Together, we held the Bellsport Cup tournament, which took place from 13 to 15 May 2022 in Zakopane.
The BellSport Cup tournament is intended for children and has been played in Zakopane since 2015. Among the fifteen-year-olds, the football fields of Zakopane hosted such teams as: Chicago Fire, Olympique Marsylia, Leicester City, FC Banik Ostrawa or FC Lahti from Finland. The ambassadors of the tournament are former football representatives of Poland Mirosław Szymkowiak and Grzegorz Rasiak.
But that's not all! We have also become the partners of:
Stal Rzeszów Steel Cup tournament, date: 3-5 June 2022 in Zakopane;
Sokolik tournament, date: 11-12 June 2022 in Stary Sącz;
Api Cup year-round tournament.
Feel free to join them!
We are convinced that thanks to the values followed by our organisations, we will establish a beautiful and lasting partnership and you will be growing in the spirit of the #DuoLifeGoUP!
Let your every day be a special day…
Back to the list of news