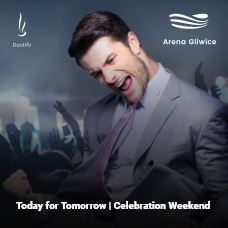 Feel the magic of DuoLife! Enjoy our nFeel the magic of DuoLife! We invite for new event that will happen soon, on 21–22.08.2021 – DuoLife Today for Tomorrow | Celebration Weekendew event - DuoLife Today for Tomorrow | Celebration Weekend on August 21st – 22nd, 2021
23.07.2021
Dear Club Members,
over a year of waiting and... enough! On 21-22.08.2021 we are organising a brand new event – DuoLife Today for Tomorrow | Celebration Weekend (TFT) – which will take place in your favourite off-line form! This means that in a large group we will meet in Arena Gliwice, where together we will celebrate successes and benefit from the knowledge and experience of exceptional speakers!
TFT is an event not to be missed, and a unique chance to feel the magical DuoLife atmosphere again. If you miss our events or if you've been with us for a while and you haven't participated in any yet – you just have to be there! You never know when such an opportunity will come again, so you can't waste this unique chance.
Today for Tomorrow | Celebration Weekend
21–22.08.2021
ARENA GLIWICE
A situation that has affected us all recently has shown that change is the only certain thing in life. However, the crisis and fragility we face during a pandemic can be a great lesson in helping you develop and realise your full potential! DuoLife Today for Tomorrow | Celebration Weekend will prove to you that it really is possible. During this event we will take care of stable tomorrow for our Community, which is based on Health, Development and Business built on DuoLife products and Compensation Plan.
An exceptional event like TFT is organized primarily with you in mind. On our stage will appear Co-Founders of DuoLife S.A., outstanding Experts, and above all, Directors of DuoLife Club! Their amazing stories that define success are sure to inspire you with a powerful dose of motivation and help pave the trail leading straight to the top!

The new reality for everyone can be friendly and attractive, full of opportunities and positive and lasting relationships, which are a value of great importance. At DuoLife, we are well aware of this, which is why we want to create the best environment for you to work and grow. TFT is a very important step in this direction.
The first stationary event we are organising since February 2020 will have a unique character, so we strongly encourage you to participate! The past few months have not been easy, but we at DuoLife have risen to every challenge. In the last 18 months we have grown by 203%, expanded on all levels and done a great job in strengthening our brand in the public consciousness. Each of these achievements is also your achievement, so now it's time to celebrate your successes together! What does this mean? Apart from the sessions full of motivation and unique knowledge, we will also have a lot of fun and great emotions that will stay with us forever!
Only at Today for Tomorrow | Celebration Weekend:

You'll learn how to create a sustainable tomorrow by building a business around DuoLife's products and Compensation Plan.

You will have an opportunity to meet the Co-Founders of DuoLife S.A.: Bartosz Królikowski, President of the Management Board, Łukasz Godyń, Vice President of the Management Board, Norbert Janeczek, Chairman of the Supervisory Board, and Piotr Pacyg, Vice Chairman of the Supervisory Board.

You will listen to business coaches: Beata Kapcewicz and Joanna Gdaniec

You will meet the DuoLife Club Leaders who are the driving force behind our company.

During the two days of lectures you will listen to the speeches of the best business practitioners with numerous successes to their credit.

You'll learn fascinating stories from DuoLife Club Directors that will inspire you to action.

Our experts – Piotr Kardasz, Ph.D. (Hon.), Chairman of the Scientific Council of DuoLife S.A. and Malgorzata Karpinska-Trojanowska, M.Sc., Pharm., author of DuoLife and LAZIZAL® cosmetics – will introduce you to DuoLife products and also present new products that will be available in 2021.

You will get the best solutions and on-line business tool to make you ready for any circumstances.

You will take part in a unique concert and additional artistic attractions that will put you in a great mood.

You will be able to strengthen your relationships and feel the value of being part of the DuoLife Community.
The new event is coming soon, so don't hesitate and book your tickets today. Once again, we assure you that it is worth it, because there has never been such an event as DuoLife Today for Tomorrow | Celebration Weekend. Join us, pick up your work brick for the coming months, see how impressive DuoLife's corporate fleet is, learn from the best and just take your chances. Soon we will meet in Gliwice and... let the magic happen!
Note!
We would like to inform you that for the purpose of the event, we rented an area of 22,000 m2 in the Arena Gliwice, which normally seats as many as 13.5 thousand people! Due to restrictions, the number of seats is limited to 2,000 people, although COVID-19 vaccinated persons are not included in the limit.
Have the limit in mind and hurry to buy your tickets!
We will soon reveal more information about the upcoming event. We assure you that there is much to look forward to!
"Let your every day be a special day..."
Back to the list of news