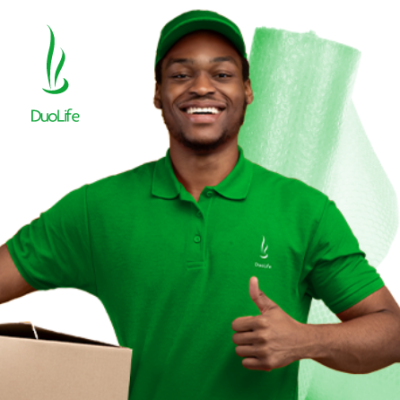 Even more #EcoDuo! New eco-friendly bubble wrap in DuoLife warehouses
20.03.2023
Dear Club Members,
We are pleased to inform you that we are keeping the pace of eco-changes and have decided to implement another environmentally-friendly solution! In line with our #EcoDuo strategy, we have decided to introduce a new eco-friendly bubble wrap for packing your orders*!
Zero-trouble bubble wrap!
We are constantly evolving in line with the concepts of #DuoLifeGoUP! and #EcoDuo, improving our services and products, while at the same time taking care of the environment. In order to proceed with the implementation of both strategies, we have introduced a completely new solution - eco-friendly bubble wrap to protect your orders during transport. See what makes our bio bubble wrap stand out:
100% oxo-biodegradable, as confirmed by the d2w® certificate;
decomposes within 12-24 months;
ensures full protection of the contents during transport;
resistant to tearing, protecting the contents from abrasion and crushing, as well as moisture;
an excellent cushioning material, filling empty spaces in the packaging.
We will soon be implementing new ideas as part of the #EcoDuo concept. All this to continue being the best company for our world!
* The modification will be implemented successively in the following months. It depends on the current stocks of foil.
Let your every day be a special day…
Back to the list of news