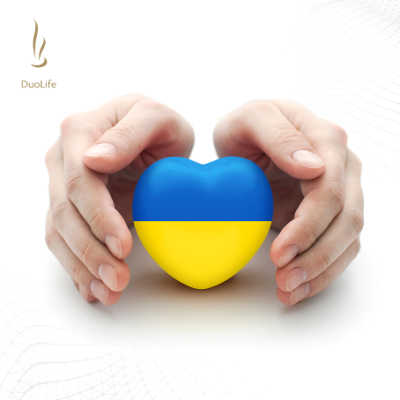 DuoLife S.A. Helps Ukraine
23.03.2022
Dear Club Members,
the tragic events taking place in Ukraine every day are the source of our concern and an unquenchable desire to help. We continue to take initiatives that bring great support to those affected by warfare, and it is you who help us make them happen. We would like to thank you for this and encourage you to continue helping!

Our aid so far has revolved around buying and donating food, basic necessities and fuel for transport. By doing so, we supported, a hospice and an orphanage in the Lviv region, as well as refugees gathered on the Polish-Ukrainian border, among other causes.
At the same time, we continue to support the fundraiser organised on Facebook by the WHLF Foundation and the Help Furaha Foundation. All funds raised will be used to purchase basic necessities and will then be donated to a campaign organised by the city of Kraków. We are also continuously recruiting for the DuoLife Team targeting refugees from Ukraine.
We can also assure you that we are constantly monitoring the situation both in Ukraine itself and at the border crossings – if there is anything we can do to help, we certainly will. We remain united with the Ukrainian people in these difficult times.
Let every day be a special day…
Back to the list of news