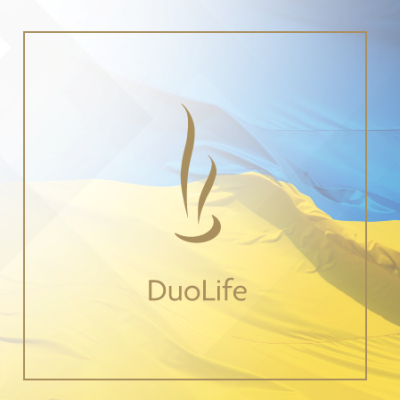 DuoLife fully resumes operations in Ukraine
23.05.2022
Dear Club Members,
We are after several weeks of testing and observation of the operational processes in Ukraine. After making sure that we can safely serve our Club Members, Preferred Customers and Customers, with great joy, we would like to announce the full relaunch of DuoLife operations in Ukraine. We are happy to be with you again!

This announcement was preceded by a test period of several weeks, during which we monitored and analysed the conditions, shipping and receiving of orders, payments, disbursements and other business processes in the Ukrainian market.
We have tested various logistics solutions to make sure that orders can be delivered safely – at this point, shipments are successfully delivered in most parts of the country within just a few working days,
We have developed a high degree of flexibility in delivery methods and times, and we contact the Club Member, Preferred Customer or Customer before shipping each order,
At the same time, we encourage you to verify the delivery method in your region of Ukraine yourself before placing an order
we do our utmost to ensure the smooth delivery of goods to the central warehouse
withdrawals for Club Members from Ukraine, made from Virtual Wallets, are conducted in a timely manner and in accordance with standard rules.
Other operational processes also function normally and are continuously monitored by our team to facilitate your business operations and ensure maximum benefits.

Also remember the most important thing. DuoLife's operations in Ukraine have been fully relaunched for you, for the sake of your health, comfort and a fresh start. Keep in mind the tremendous opportunities that the DuoLife Club presents, as business can be conducted from anywhere in the world, reaching communities in many countries and changing lives for the better! We know that this is what people need most right now, and we warmly invite you to contribute to creating a new, peaceful reality.
Let your every day be a special day…
Back to the list of news