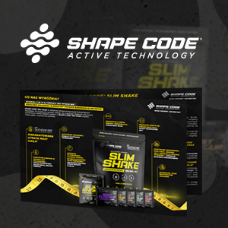 Download a special brochure and learn all benefits of SHAPE CODE® Slim Shake!
3.10.2021
Dear Club Members,
SHAPE CODE® Slim Shake is a product that can help you change your life! If you are struggling with weight gain and, despite a number of attempts, are unsuccessful in losing weight, try a DuoLife nutritional shake. To help you get to know and understand this unique product and its effects, we have prepared a special brochure that presents all benefits of SHAPE CODE® Slim Shake! Satisfaction guaranteed!
Download the flyer
and learn 12 facts about
SLIM SHAKE!
What makes SHAPE CODE® Slim Shake different from other similar products on the market? Read our flyer as soon as possible to get to know as many as 12 facts. You will learn about the strengths of our dietary supplement, how each ingredient works, how SHAPE CODE® Slim Shake supports your body and much more. Check out the flyer and our product will have no secrets from you!
You will see that SHAPE CODE® Slim Shake is the best choice that stands out from the competition and can really help you achieve the figure of your dreams. Download the brochure from the Downloads tab in MyDuoLife and put your trust in a nutritional shake from DuoLife!
Let your every day be a special day...
Back to the list of news