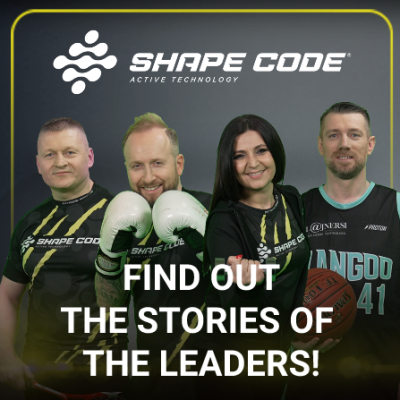 Discover the inspiring stories of the DuoLife Club Leaders and take your game to the next level!
19.05.2022
Dear Club Members,
From 2022, we are developing the vision of #DuoLifeGoUp. We want to reach higher, look further, see more, constantly evolve, and... promote a sports lifestyle! On this occasion, we decided to ask the Leaders of the DuoLife Club what sports gave them and what their recipe for success is. What is the recipe then? Find out for yourself in our latest video "Business, sport, development – my story"!
Sport has a number of benefits. The slim and fit figure, health, and well-being are only some of them. Have you ever wondered what physical activity, success in business, and personal development have in common? You will find the answer in our video!
SEE THE VIDEO and get inspired to take action with SHAPE CODE Leaders®
On your way to the championship, you will be accompanied by the SHAPE CODE® brand, which was created to promote a healthy lifestyle and physical activity. Feel free to join the SHAPE CODE® TEAM group on Facebook.
The group brings together the DuoLife community, which spread their positive mood every day and inspires to change for the better through sport.
Are you ready to improve your life and take the #DuoLifeGoUp challenge? If so, fasten your seatbelts and join us on an adventurous journey to realise your dreams. Success is within your reach!
Back to the list of news