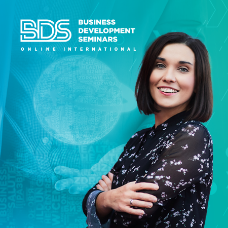 Development session with Joanna Gdaniec during BDS International Online (19.06.21) - YOU MUST BE THERE!
14.06.2021
Dear Club Members,
The Development session is one of the highlights at the upcoming BDS Online International event. What exactly can you expect?

First of all, Joanna Gdaniec will appear on our virtual stage especially for you; she's an international trainer and speaker, creator of IMPRO-selling and co-creator of the softmarketing ® concept.
Secondly, together with Joanna you will sail the wide waters of personal development. Make a STOP and check that you are in the right place. Find out where your results come from in health, business and life!
During this session:
you will learn the formula for success in health, in life and in business - most people miss it by a mile and then are surprised by the lack of results,
you will learn what 3 factors determine the success of implementing this formula into your health, business and life,
you will learn the specific 3 steps you need to take to drastically change your results in health, business and life.
The Development session, like the entire BDS International Online event, will be conducted in Polish with translations into English, German, Russian, Slovak, Czech, Hungarian, Romanian, Portuguese, Spanish, French, and Italian. We will see you already on 19.06.21!
8 a.m. (UTC +2) 7 a.m( time for Great Britain)) – Special Leader Session for Club Members in a position of Junior Team Leader and higher.
9 a.m. (UTC +2) 8 a.m( time for Great Britain) – the beginning of BDS International Online addressed to all Club Members and their guests.
Note!
Stay alert! Ticket sale closes on 18.06.2021, 10:00 a.m.! On 18.06.2021, every person that purchases a ticket will get a registration link via e-mail. Within one hour the ZOOM app will generate a unique event invitation. On the event day (i.e. 19.06.2021) all you need to do is to click a button in the invitation to join the BDS International Participants.
Let your every day be a special day…
Back to the list of news