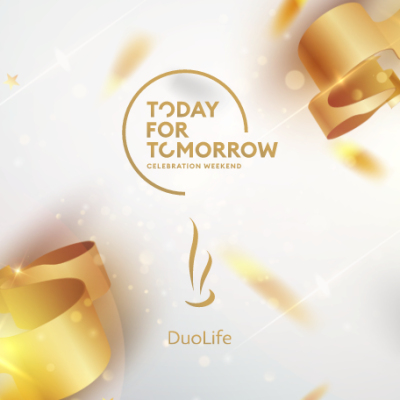 Celebrate DuoLife's 8th birthday with us during the 2nd edition of TFT on 20-21 November 2021 in Arena Gliwice
10.11.2021
Dear Club Members,
The 2nd edition of Today for Tomorrow | Celebration Weekend is an event not to be missed for many reasons, one of which is... the GREAT CELEBRATION of the 8th BIRTHDAY of DUOLIFE! We are preparing an unprecedented celebration for you, so don't hesitate to book your tickets - until 15 October 2021 you can get them at a discounted price!

DuoLife's 8th birthday is a special event that we want to experience with you. Let's celebrate it together, just as together we build our organization, enjoying great successes and exciting achievements. You have all contributed to the development of the company, so you should all join us on 20-21 November 2021 in Arena Gliwice during TFT!
At the end of the first day we will have a birthday party. Apart from a wonderful atmosphere, you will be able to enjoy special attractions that we are preparing especially for you. We will give you more details soon. For now, just take us at our word that you will love it and prepare yourself for pleasant surprises!
Make sure to be there with us! Let's blow out the candles on DuoLife birthday cake together!
Remember that TFT tickets are available at a discounted price only until 15 October 2021! The special promotion prepared for DuoLife Club Members is coming to an end soon, so hurry up. Buy your tickets at a sensationally low price and start your preparations for TFT today!
TFT ticket sales schedule
Date
Ticket type
PLN
EUR
USD
UAH
HUF
CZK
GBP
RUB
- until 15.October
Single
199
50
57
1530
16600
1250
44
4310
- until 15.October
Package
318
80
91
2450
26500
1990
71
6890
16.10-19.11
Single
239
60
68
1840
19900
1500
53
5170
16.10-19.11
Package
389
100
114
3060
33200
2490
88
8620
20-21 November
(on-site)
Single
279
70
80
2150
23300
1750
62
6040
20-21 November
(on-site)
Package
478
120
137
3680
39800
2990
106
10350
You really can't miss this offer!
Note!
Every person that will join the DuoLife Club after 16 October 2021 can buy TFT tickets until the end of the sales process at prices applicable in the first phase.
The event will be held in Polish. Simultaneous interpretation into the chosen foreign language will also be provided, if a group of at least 50 people submits a request. More details will be provided by the Market Managers.
Do you want to see how much fun we had during the first edition of TFT? Check out our gallery and video from the previous event!
Let your every day be a special day…
Back to the list of news