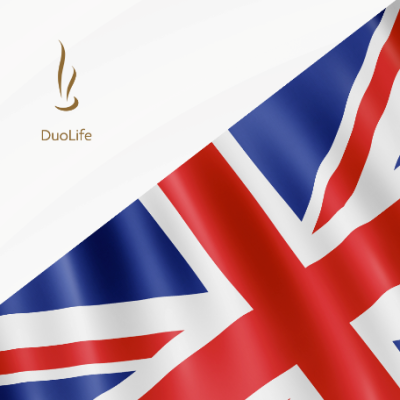 Brexit - new information and modifications in the UK zone
22.12.2020
Dear Club Mambers,
in order to ensure the sustainable development of your business in Great Britain, and with the aim of making it fully safe, we are introducing modifications that will allow us to adapt to the new situation on the British market in terms of supplies and legal regulations.
The final process of Brexit is still not fully confirmed by the UK government, but DuoLife has developed solutions that will allow us to smoothly transition into the new reality from 01.01.2021 r.
Continuity of supply - we do not anticipate interruptions in supplies for the British market. However, we encourage you to place orders this year until December 27, 2020, to minimize the risk of Brexit delays. Club members who decide to place an order in the new year 2021 can expect a longer delivery time. The possible customs procedure will depend on the adopted Brexit procedure (soft or hard).

Transition to local VAT - due to the requirements for commercial cooperation with Great Britain, from 01/01/2021 DuoLife is obliged to register and remit British VAT. This will result change in prices for the supplements. Prices will increase from 0%, eg DuoLife Medical Formula ProImmuno, through 10.6% for the remaining capsules from Medical Formula line, to 14.3% for DuoLife Day & Night. The prices of other products outside the range of supplements (i.e. food, cosmetics, household chemicals, advertising materials) will not change.
Important: due to technical aspects, the price change is planned for 30.12.2020 r.

UK deliveries will only be possible for products purchased in the UK zone. This is due to the fact that the change to local VAT requires making purchases only in the UK zone. From 01/01/2021, the possibility of making purchases with delivery to the UK from other zones will be blocked.
To complete an order with delivery to the UK zone, you need to log into the UK zone in the MyDuoLife system. Club members who decide to change the zone due to the above modifications can do it free of charge from 01.01.2021 r. to 31.01.2021 r.
Lower delivery costs - we have also prepared for you changes in delivery costs, which will come into force on 01/01/2021. Thanks to this, you will pay only ! 8,90 GBP!for a parcel up to 10 kg

The other processes remain unchanged. The other processes remain unchanged. Virtual Wallet withdrawals will continue as usual.
We keep up-to-date information related to Brexit, as its final form is still being negotiated between the European Union and Great Britain, so we will keep you informed about the impact of Brexit on the service of the UK market.
Let your every day be a special day…
Back to the list of news