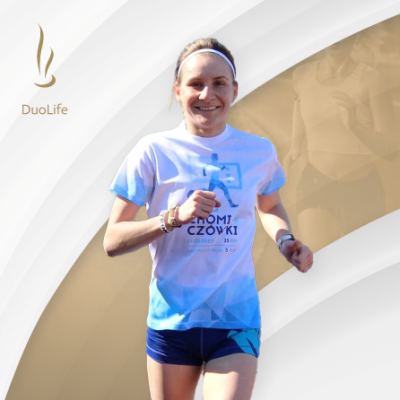 Beata Klimek as new DuoLife brand ambassador!
7.06.2022
Dear Club Members,
we are very proud to announce that Beata Klimek has become a new Ambassador of DuoLife brand. Welcome aboard!
Beata Klimek
a new DuoLife Brand Ambassador!
Welcome aboard!
Beata is an athlete and has been training long distance running for years. Currently she is focusing on the 5000 and 10,000 m distances. She also competes at shorter distances and in cross-country running. Beata can also boast of numerous successes:
Gold Medal at the Polish Team Championships over a distance of 5000 m U23;
Silver Medal at the Polish Cross Country Championships U23;
Polish Academic Vice-Championship in cross-country running at a distance of 6 km.
Our Ambassador points out that in the coming years she would like to fulfil herself only as an athlete and constantly improve her shape. DuoLife supplements help her achieve this goal, which only confirms their superior quality and efficiency.
We are also glad that it is our products that contribute to the sporting development of Beata Klimek and help her achieve her master shape!
We are very happy that such an ambitious, talented and promising athlete has joined the group of DuoLife brand ambassadors.
We also believe that Beata's values are in line with our company philosophy!
Back to the list of news