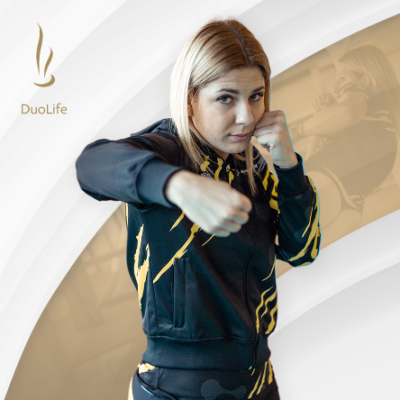 Aleksandra Ciężka becomes a new DuoLife Brand Ambassador!
20.06.2022
Dear Club Members,
We are proud to inform you that Aleksandra Ciężka has become a new DuoLife Brand Ambassador. Welcome in our Team!
Aleksandra Ciężka
becomes a new DuoLife
Brand Ambassador!
Welcome aboard!
Aleksandra has been training kickboxing for 6 years now. She has been its instructor for a year, training children and adolescents. In 2021, she became the Polish champion in kickboxing and was called up to the National Team. Moreover, Aleksandra can boast of other successes:
winning the Polish Cup in 2021;
being three times the Polish vice-champion in Light Contact and Kick Light;
winning the 3rd place at the Polish Senior Championship in Light Contact.


We are glad that such a titled and talented sportsperson has joined the team of our Ambassadors! Consistency, hard work and being success-oriented are the values cherished by Aleksandra and, at the same time, coincident with the DuoLife philosophy!
Back to the list of news