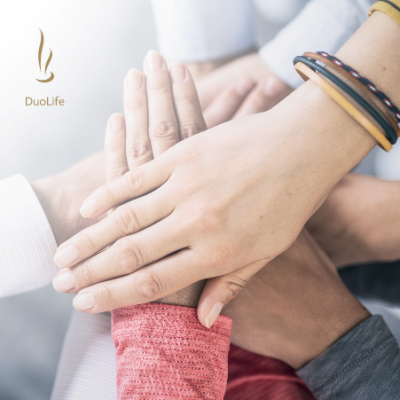 Action-Reactivation - we're giving away rewards for resuming your activity!
14.06.2022
Dear Club Members,
2022 is the year marked by the #DuoLifeGoUP idea, so ... it's time to enter a higher level in business and encourage others to act! Our Action-Reactivation, which starts on June 10, 2022, will help you in this, be sure to find out its details!
The promotion is valid on all markets, runs from 10.06.22 to 15.07.22 and consists in activating:
Club Members who have not placed any orders in the period of at least the last 12 months,
Candidates who submitted but did not pay for their first order.
Inactive Club Members
Members who have not placed any orders in the DuoLife store for the last year (16.05.21 – 09.06.22), now - after placing an order with a minimum value of 50 points (until 15.07.22) - will receive our bestseller, DuoLife Chlorophyll for just PLN 1 / EUR 1 / CHF 1 / USD 1 / GBP 1 / UAH 10 / CZK 10 / HUF 100 / NOK 1.
After the end of the promotion, the status of the accounts of Club Members who do not place an order with a value of at least 50 points will be changed to 'suspended'. Reactivation of the account of such a Club Member will be possible with the consent of the Compliance Department (contact e-mail address: [email protected]).
The promotion applies only to DuoLife Club Members, and is not intended for Preferred Customers.
Information about people who have been inactive for more than 12 months is available in the Club Member's panel and at the moment requires manual search in the MyDuoLife system (tabs: Career Structure - List). After finding a given user, click the "Business" button to see his activity in a given Settlement Period.
Candidates
We also encourage you to activate Candidates, i.e. people who have registered in the DuoLife Club, but have never paid for the first order. This applies to Candidates who joined the DuoLife Club before 31.05.22 (until 11:59 pm).
The candidate, after submitting and paying for an order with a minimum value of 250 points, and after being placed in the Career Structure and Discount Structure, will receive the status of a Club Member.
Such a person will be able to:
obtain awards for achieving the status of the Golden Group Leader and Quick Start in accordance with the DuoLife Compensation Plan;
receive the DuoLife Day and Night set in the third Settlement Period, provided that you maintain your own activity at a minimum level of 500 points in the first three Settlement Periods from the moment of reactivation;
use the Loyalty Bonus promotion.
At the same time, the Candidate will not be entitled to:
receive an reward as part of the WinBack promotion - DuoLife Chlorofil;
use the promotion available in the registration order - DuoLife My Blood.
Unactivated Candidates' accounts will be permanently deleted after the end of the promotion, i.e. after 15.07.22.
How to search for Candidates in your structure? After logging in to the MyDuoLife system, go to the tab Club Member's Zone - Structure - Career Structure - Table, and then turn on the "Candidate" filter. Then, people with this status will appear in the table.
Action-Reactivation is a great chance to stay in the ranks of our unique Community! You can't miss it!
Action-Reactivation is the easiest method to develop your own business faster. In addition, it allows you to recruit, returning to those who already know DuoLife and encouraging them to act in order to finally ... achieve and celebrate success together!
Can this be successful? In previous campaigns of this type, as many as 45% of Club Members who took advantage of the Win Back promotion stayed with us for longer.
Action-Reactivation really works!
Let your every day be a special day…
Back to the list of news