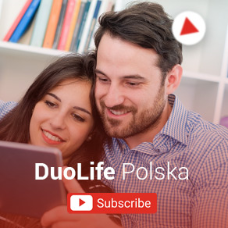 A unique material base from DuoLife - subscribe to our channel on YouTube!
31.01.2020
Dear Club Members,
by expanding DuoLife's activities and trying to reach the largest possible audience, we are constantly expanding our database in social media. In a world focused on obtaining reliable information and valuable sources of knowledge as quickly as possible, these are extremely important development tools thanks to which you can also go ahead and develop your own business.

For this reason, we would like to recommend our YouTube channel to your attention. Currently, we have almost 700 materials in the database, which - taking into account your comfort - we decided to divide into individual categories. When viewing them you can find movies about:
LDS events;
BDS events;
DuoLife products;
director and managerial trips;
webinars with DuoLife Club Experts and Leaders.
By grouping materials without any problems you will reach all the movies you are interested in. We strongly encourage you to visit and subscribe to the DuoLife Polska YouTube channel!
Let every day be a special day...
Back to the list of news