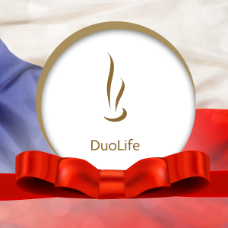 A new chapter in the development of DuoLife in the Czech Republic! New zone is available on MyDuoLife!
16.02.2020
Dear Club Members,
We are pleased to announce that as of February 16, 2020, specially for DuoLife Club Members from the Czech Republic, we have launched a new zone and a new currency in the MyDuoLife system!
Below we present what the most important changes and improvements will involve:
I NEW CURRENCY

From 16/02/2020, the currency in the Czech zone during purchases and settlements will be Czech Koruna (CZK). We believe that thanks to this all financial operations will become simpler and more transparent for you!
II VIRTUAL VALLET

On February 16, 2020, the DuoLife Virtual Wallet will be converted from PLN to CZK according to the exchange rate of the National Bank of Poland from the previous business day. All transactions in the Virtual Wallet and the current balance will be converted.
III PRODUCT PRICE LIST

Product prices, which will be expressed in Czech crowns, will decrease from 2% to 9% compared to current prices in EURO! Thanks to this, business activities leading to real successes will be even simpler and you will benefit a lot!
IV. EXCHANGE CONVERTER

From 16/02/2020, all commissions from the Compensation Plan will be calculated in the local currency according to the conversion rate 1 point = CZK 5.96 *.
* DuoLife reserves the right to change the conversion rate in the event of sudden exchange rate fluctuations upon prior notice of Members through an official announcement on myduolife.com.
V PAYMENTS METHODS

To make the payment process as easy as possible and adapt it to your needs, from 16/02/2020 you can pay for products and training in your local currency by choosing Fonda's payment method .
Through this platform, you can pay with both a payment card and use the option of immediate bank payment (e.g. in banks such as: Česká Spořitelna, UniCredit Bank, mBank, Sberbank, Komercni Banka (KB), MONETA Money Bank, Air Bank ).
In addition, we also introduce the option of paying by traditional transfer to an account in CZK, the data of which you will find on our website in the "Bank accounts".
TAKE NOTE
Necessary changes in the MyDuoLife system will be carried out at night from 15-16 February between 00:00 and 6:00, which may make it difficult to use its functions. Therefore, we recommend that you do not log into the system at this time.
If you have questions or concerns, we strongly encourage you to contact our helpline or by e-mail: info@duolife.eu.
We believe that the introduction of the above changes will translate into even faster and more effective development of your business in the Czech Republic, and above all will lead you to great success! We encourage you to take advantage of new opportunities. Change your life for the better with DuoLife!
Let every day be a special day…
Back to the list of news