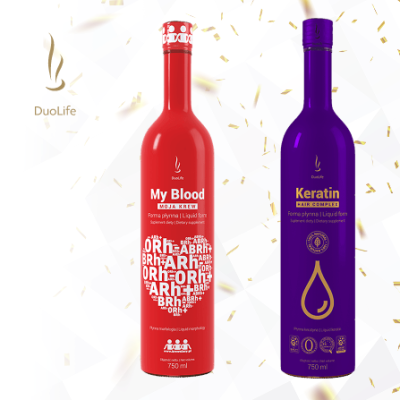 Super promotion for new Club Members - collect our bestseller!
16.06.2022
Dear Club Members,
we are pleased to inform you that we have created a new version of the special offer for newly registered members. Taking advantage of the offer, when submitting a registration order at the level of min. 500 points (i.e. the first order in the DuoLife Club), each new member of our Community will receive the bestsellers (to choose from) - DuoLife My Blood Moja Krew or DuoLife Keratin Hair Complex for a symbolic amount of 5 PLN /1.25 EUR / 2 USD / 1.20 GBP / 1.25 CHF / 30 CZK / 390 HUF / 5 NOK/ 39 UAH! The special offer starts on 16 June 2022!*
DuoLife My Blood Moja Krew is a dietary supplement that won the hearts of DuoLife Club Members and is very popular. The product is particularly recommended to those who do intense physical activity, work using high intellectual effort, as well as convalescents, women planning pregnancy, vegetarians, the elderly and seniors, and blood donors. It provides both vitamins and minerals, as well as valuable antioxidants contained in extracts and juices from vegetables and fruits, and helps maintain proper morphology results, supports antioxidant processes and body regeneration.
At the same time, DuoLife My Blood Moja Krew offers direct support for the promotion of honorary blood donation and the Krewniacy Foundation, to which we donate part of the income from its sale.
DuoLife Keratin Hair Complex is a dietary supplement in a liquid form based on keratin and the content of natural ingredients of plant origin, which contributes to stimulating the growth of hair and nails and supports the natural functions of the skin.
We are positive that DuoLife My Blood Moja Krew as well as DuoLife Keratin Hair Complex are perfect products, encouraging people to operate in the DuoLife structures and implement the assumptions of the #DuoLifeGoUP idea, which will help you enter a higher level and achieve impressive success, e.g. by increasing recruitment to your teams! We strongly encourage you to take advantage of this promotion opportunities for newly registered Club Members!
* The offer is not valid in the following areas: US, CA, UA, AM, BY, KZ, and RU.
Let your every day be a special day…
Back to the list of news