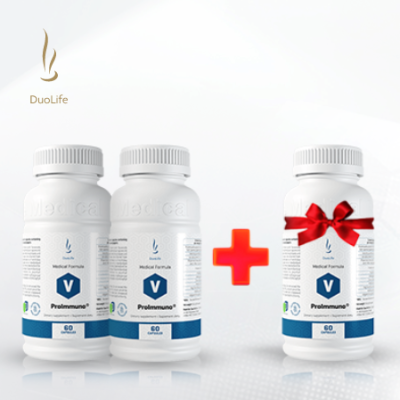 Special offer for DuoLife Medical Formula ProImmuno® 2+1 free!
16.09.2022
Dear Club Members!
The autumn is around the corner, which means that you should boost your immunity! Just for you, we have prepared a special promotion for DuoLife Medical Formula ProImmuno® 2+1 free dietary supplement, which will help you boost your immune system!
Do not hesitate to take advantage of the promotion and take care of your immunity. Buy two DuoLife Medical Formula ProImmuno® to get the third one free of charge!*
DuoLife Medical Formula ProImmuno® is a product made of carefully selected natural ingredients which come together to create a unique combination in line with the principles of synergism. The effects of multiple raw materials used in the product have been confirmed by numerous clinical trials and scientific publications. The ingredients contained in the supplement may support your body as it guards itself against virus and bacterial infections. They can also support the body in the fight against the inflammatory process accompanying infections.
Do not miss this chance!
* The promotion is valid until 15 October 2022 and does not apply to the following zones: AM-BY-KZ-RU.
Let your every day be a special day…
Back to the list of news