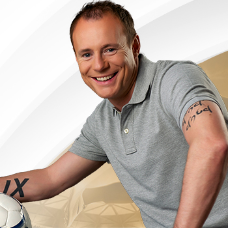 Piotr Reiss New DuoLife Brand Ambassador!
21.01.2021
Dear Club Members,
another special person joined the DuoLife Ambassadors - Piotr Reiss, former football player of Lech Poznań, Hertha Berlin and Polish National Team. Welcome to our team!
Piotr Reiss
New DuoLife Brand Ambassador
Two-time Polish Cup winner
with Lech Poznań (2003/04, 2008/09)
Polish Super Cup winner
with Lech Poznań (2004)
Top scorer in Ekstraklasa (2006/07)
Welcome to
DuoLife!
Piotr Reiss for years was one of the best and most effective strikers playing in the Ekstraklasa. For Lech Poznań, in which he spent most of his career, he scored as many as 109 goals, which gives him 20th place in the prestigious Club 100 associating players with a minimum of 100 goals scored in the major league. With his excellent play on Polish football fields, Piotr Reiss earned a transfer to the German Bundesliga, one of the strongest leagues in the world, where he defended the colors of Hertha Berlin and MSV Duisburg. After ending his career, he took up training children and young people. The Reiss Academy of Football is the largest venture of its kind in Poland, with access to 7 training centers and 103 training facilities. It employs nearly 500 coaches who take care of the soccer education of young soccer adepts every day.
We are sure that Piotr Reiss, who has had a great sports career and who takes care of the health, development and education of young football players every day, fits perfectly into the DuoLife Ambassadors team. Welcome to the team once again!
Let every day be a special day…
Back to the list of news