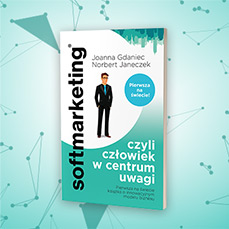 Translation of the book softmarketing®, man in the spotlight? Yes, it is possible!
7.08.2019
Dear Club Members,
Polish version of the book Softmarketing®, czyli człowiek w centrum uwagi by Joanna Gdaniec i Norbert Janeczek, which premiere took place during the 15th LDS, is already on sale
Our assumption from the very beginning, however, was to make this unique position reach the largest group of our Club Members, including those from abroad. Therefore, we would like to encourage you to submit a purchase declaration via the form available at the link:
If at least 500 people are eager to buy a book in a given language, we will commission a translation and then we will put it to print! At the same time, we would like to point out that the process of translation and printing of the book will take approximately 2-3 months. The deadline for closing applications is August 15 this year.
All additional information is available on the forms.
We strongly encourage you to place orders and complete your home library with this unique item!

Let every day bea special day…
Back to the list of news