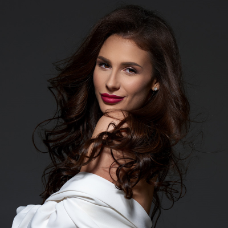 Evgenia Nikulina is a new DuoLife brand ambassador
24.12.2019
Dear Club Members !
We are pleased to inform you that another exceptional character has joined the group of DuoLife Ambassadors. Evgenia Nikulina, who has become the face of new product lines - DuoLife Beauty Care and Advanced Formula, will be a part of our team. Welcome aboard!

---
Evgenia is an outstanding expert in the field of beauty care and broadly understood health care. She runs her own beauty salon and health food store. She is also the author of marathons for personal development for women and a valued organizer of group trips abroad. She cares about her health and the health of her relatives using only natural medicine methods. She also promotes a responsible lifestyle using products of the highest quality natural origin, and loves to spend her free time on travel. Her greatest happiness brings her a place where she found herself in life. Thanks to this, she feels joy in every area of her business.
The philosophy professed by Evgenia fits perfectly with the mission we are trying to implement at DuoLife. We believe that with the help of our new Ambassador, we will do it even more effectively.
Evgenio, welcome back to DuoLife. Thank you for being with us!
Back to the list of news