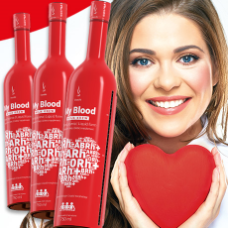 DuoLife My Blood My Blood - fluid morphology that will revitalize your life!
1.10.2020
Dear Club Members,
Give your dearest a portion of liquid morphology with a solid dose of energy in the New Year! With the 3 + 1 * package. My Blood is the perfect gift from the heart for the heart, give it to a loved one!

Let's break the Guinness World Record together and take our bottles to the roof of the world! By purchasing the Promotional set My Blood 3 + 1 * , you will contribute to this together with DuoLife and the Krewniacy Foundation. In this way, we will jointly allocate PLN 50 from each promotional package to support the expedition of Krzysztof Drabik, who will break the Guinness record by juggling DuoLife bottles on Mount Everest. Together we can conquer every summit! Reach with DuoLife for the highest mountain in the world - Mount Everest!

* No points will be charged for a free product. Limited edition, order of orders decides.
Back to the list of news