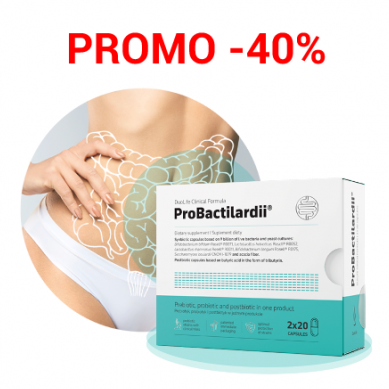 DuoLife Clinical Formula ProBactilardii® - now 40% off!
16.09.2022
Dear Club Members,
Especially for you, we prolong the unique special offer for the DuoLife Clinical Formula ProBactilardii® dietary supplement, now you can buy it cheaper by 40%.
DuoLife Clinical Formula ProBactilardii® is a comprehensive food supplement, consisting of 2 complementary capsules:
The Synbiotic capsule contains a prebiotic and a proprietary probiotic formula BACTILARDII®, based on four bacterial strains and one yeast strain.
The Postbiotic capsule contains a postbiotic formulation based on butyric acid.
The product supports the proper function of the gastrointestinal tract, optimal function of the immune system, proper function of the intestinal microflora, optimal condition of the large intestine, proper digestive processes, function of the central nervous system – especially optimal mood and emotional balance, and normal blood cholesterol levels, among other things. With DuoLife Clinical Formula ProBactilardii®, anyone can effectively take care of the health that comes straight from the intestines!
We strongly encourage you to take advantage of the unique spring promotion. Our unique dietary supplement at a price reduced by 40% is already waiting for you, and the promotion lasts only while stocks last!
Promotion is valid in all zones except RU (AM, BY, KZ, RU) and UA. The number of points awarded for a product bought 40% cheaper will also be reduced by 40%.
Let your every day be a special day…
Back to the list of news