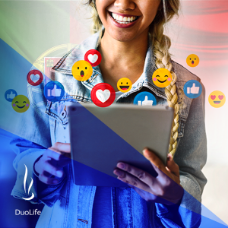 Do you want to know about DuoLife's life in Portugal?
6.08.2020
Dear Club Members,
if you want to stay updated with all the novelties in DuoLife, and you don't want to miss any of the marketing materials which are very helpful in building effective business, then ... join us on Facebook and Instagram! On our fanpages, every day we publish a lot of useful and interesting information, product novelties or notices of promotions which you simply can't miss!

On which profiles should you leave your "Like"?
DuoLife Potrugal oficial - there you'll find a unique dose of product knowledge combined with the latest news straight from our company! You'll learn everything about new events, products or institutions/persons with whom we established cooperation. There will also be some marketing materials: animations, films and photos, tidbits related to healthy lifestyle and descriptions of our company's activities in a nutshell. Addditionally, everything is spiced up with light content putting MAN IN THE CENTRE OF ATTENTION.
Let your every day be a special day…
Back to the list of news