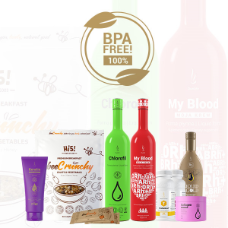 Choose DuoLife products and do not be overpowered by BPA!
2.04.2020
Dear Club Members,
the latest scientific news clearly indicates that concentration of bisphenol A (BPA) in a human body, the harmful substance disturbing functioning of the endocrine system, is very underestimated. According to research conducted by scientists from the university in Washington, we have in our bodies 44 times more BPA than previously assumed! Such results arouse serious concerns regarding generally defined health and our nearest future.
What exactly is BPA? This organic chemical phenolic compound is more and more often described as a poison contained in various types of packaging, as bisphenol A is used in manufacturing of some types of plastics, such as food and drink containers, and its particles permeate other bodies after merging with packaging content. As a result, it leads to metabolic disorders, fertility problems and increased risk of cancer.

Research conducted by US scientists leads to the obvious conclusion. Willing to take care of our health, we should avoid BPA by choosing only these products whose packaging does not contain this harmful substance. In DuoLife we have known this for a long time, that is why our diet supplements, food and cosmetics are packed in BPA-free packaging! We are obviously aware that health is the most precious value and the first step to happiness for us all.
When choosing our products, you are completely safe and BPA is not a threat to you at all. Take care of your health together with DuoLife!
Make every day unique…
Back to the list of news